Free worldwide shipping from € 120. Free shipping within the European Union from € 80.
Login
Log in if you have an account
Register
By creating an account with our store, you will be able to move through the checkout process faster, store multiple addresses, view and track your orders in your account, and more.
Create an account
Why Ecuador Should be on Your Bucket List
31 Jan 2023
It is a country that offers a unique and diverse experience for travelers, and it is also where Ecuafina sources its beautiful alpaca wool products.  For more info about Ecuador & the Galapagos Islands, visit the website of our sister company:
Here are 4 reasons why Ecuador should be part of your bucket list:
Diversity

Culture

Budget-friendly

Multiple things to do on short amount of time
   1. Diversity
The diversity in Ecuador is tremendous, and this alone should be reason enough to visit this beautiful country. Ecuador can be divided into four regions; the Andes, the Amazon, the pacific coast, and the Galapagos Islands. Due to the small size of the country, you can travel from beaches to mountains, to tropical forests within hours. Each region has something special to offer, and it is definitely worth a visit.  
The Andes, home of EcuaFina, in Ecuador is also known as the Sierra and the highlands and is one of the most visited regions in the country. The Andes provide a wide range of beautiful highland scenery all along, culinary experiences, handcrafted beauties, volcanoes, outdoor adventures and more. 
In the Ecuadorian Amazon, you will experience one of the most biodiverse places on the planet, with more than three million species living in the rainforest. This incredible place has remained partly untouched and gives you the opportunity to meet local tribes and cultures.

And finally, the Galapagos Islands is one of the most touristic regions in Ecuador. And it's no wonder, with its unique wildlife and beautiful sandy beaches. Prepare to be close with marine iguanas and giant tortoises, while enjoying the stunning atmosphere of the islands.
The coast of Ecuador is a paradise for every traveller. The coast offers pristine sandy beaches and beautiful landscapes. If you are lucky, you might even spot a whale on the horizon along the coast. The coastline offers a variety of delicious food made with freshly caught fish that you can enjoy while looking at the stunning scenery. 
The beauty of the four regions and what amazing experiences they offer should be reason enough for you to include Ecuador on your bucket list but imagine winning a giveaway and having everything paid for!

   2. Vibrant Cultures 
Ecuador has a vibrant and distinct culture, which originates from its long and rich history. As a result, the culture includes a mix of indigenous people and European influence. In addition to its rich history, Ecuador is home to tremendous cultural diversity as well as unique customs and traditions. EcuaFina, Rebecca Adventure Travel, AirEuropa and ProEcuador will give you the opportunity to experience its greatness and be amazed by what Ecuador has to offer.
   3. Budget-Friendly
Afraid it could cost a lot to maybe extend your trip or have a lot of outside expenses? Fear no more. Staying or vacationing in Ecuador can be super budget-friendly! Here is a list of what you probably are going to save money on:
Food 

Accommodation

Transportation 

Experiences 
Food in Ecuador
The food in Ecuador is both delicious and cheap. Every region has its own traditional food, and with Rebecca Adventure Travel, you can get the opportunity to try everything you desire. The tours can be tailor-made, to match your preferences completely.   
Accomodation in Ecuador
You can find really good and cheap options for accommodation, both for long stays and for vacation. If you are into homestays, hotels, hostels, or B&B, the possibilities are endless. 
Transportation in Ecuador
Ecuador has a lot of options regarding transportation. If you are travelling on a budget, the bus is a really good option. Taxis and Ubers are also really cheap, compared to other countries. 

Excursions in Ecuador
In all different regions you can do outdoor activities such as mountain biking, horseback riding, hiking, snorkeling, etc. There are options to do excursions with other travelers or in private so that you are alone with your own group. If you want more information about a family trip, tour or self drive in Ecuador, take a look at this page; Rebecca Adventure Travel Tours Ecuador & Galapagos.
   4. Multiple things to do on short amount of time
Our favourite reason why you should come to Ecuador is that in only 6 days you will fully discover what this country is about. You will need to spare a week for this trip. This week, you will get a Condor's(the national eagle) look at what Ecuador is. The tour called 6 days Ecuador Multisport consists of visiting two different regions of Ecuador. It consists of travelling through the heights of the Andes, with its spectacular volcanoes, down into the lush Amazon Basin. This is the ideal combination for guests who enjoy adventures with a wide variety of activities. This Multisport Ecuador tour includes activities such as hiking into a crater lake, soaking in hot springs, canyoning in the jungle, paddling rapids in the Amazon, and hiking to glaciers.
Find more info on: 
Multisport Tours with Rebecca Adventure Travel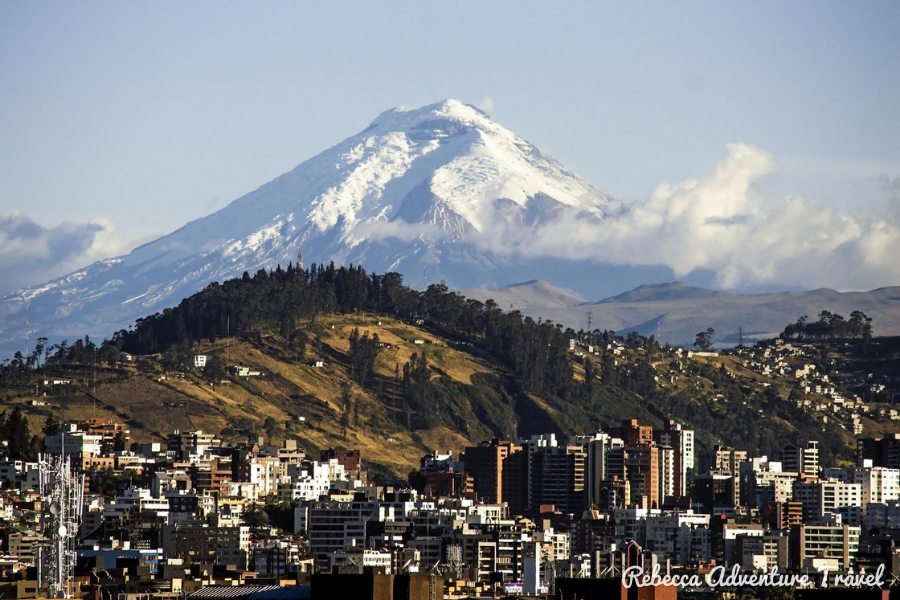 Visit now the website of our sister company: