Free worldwide shipping over €120. Free shipping within the European Union from €80.
Login
Log in if you have an account
Register
By creating an account with our store, you will be able to move through the checkout process faster, store multiple addresses, view and track your orders in your account, and more.
Create an account
Store in Zutphen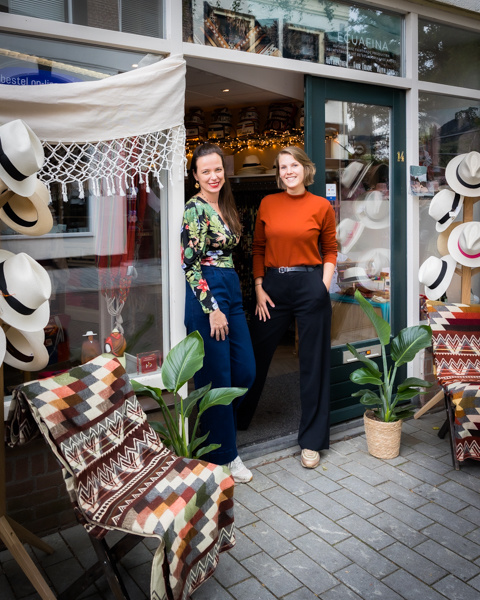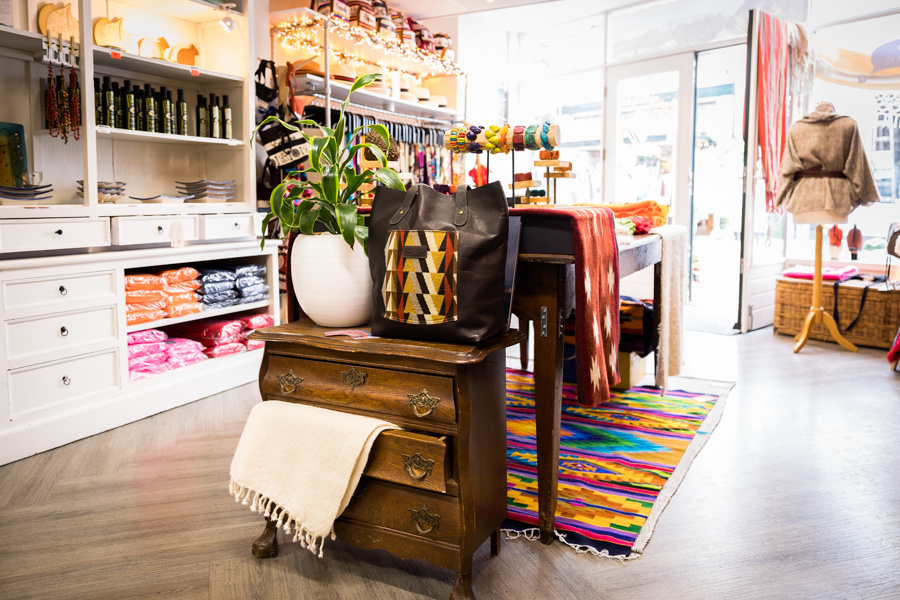 Hi! Welcome to our travel concept store in Zutphen. Besides Ecuador, this is the beating heart of EcuaFina. Here you can book a trip to Ecuador with the travel organization Rebecca Adventure Travel, but you can also immerse yourself through all the beautiful colors and prints of the most special Ecuadorian products.
EcuaFina in Zutphen is a kind of large souvenir shop with all kinds of authentic and fair trade products that are made with love and are directly sourced to the Netherlands without an intermediary. Here you will find more than what is on the website, such as the one and only Panama hats made of extremely thin straw from the toquilla palm, the Carludovica Palmata.
But you will also find handmade and hand-painted pottery from Cuenca, the most delicious avocado oil, the most cheerful hand-woven rugs, the most special jewellery and the most cool bags. In short, there is so much to see that you can experience Ecuador in miniature here in Zutphen.
On this page we take you through our store and make you curious about all the beautiful things that all small communities in Ecuador make for us with great love.
Since July 2022 you can also find the store in the Local Guide of Local Birds. Local Birds collects the best brands, entrepreneurs and products from the neighborhood per city. So very local! In the Local Guide you will find various routes through the city, such as taste the city, sustainable shopping, local makers and local heroes. Fancy a round of local shopping? Then pick up the Local Guide at the store.
Panama hats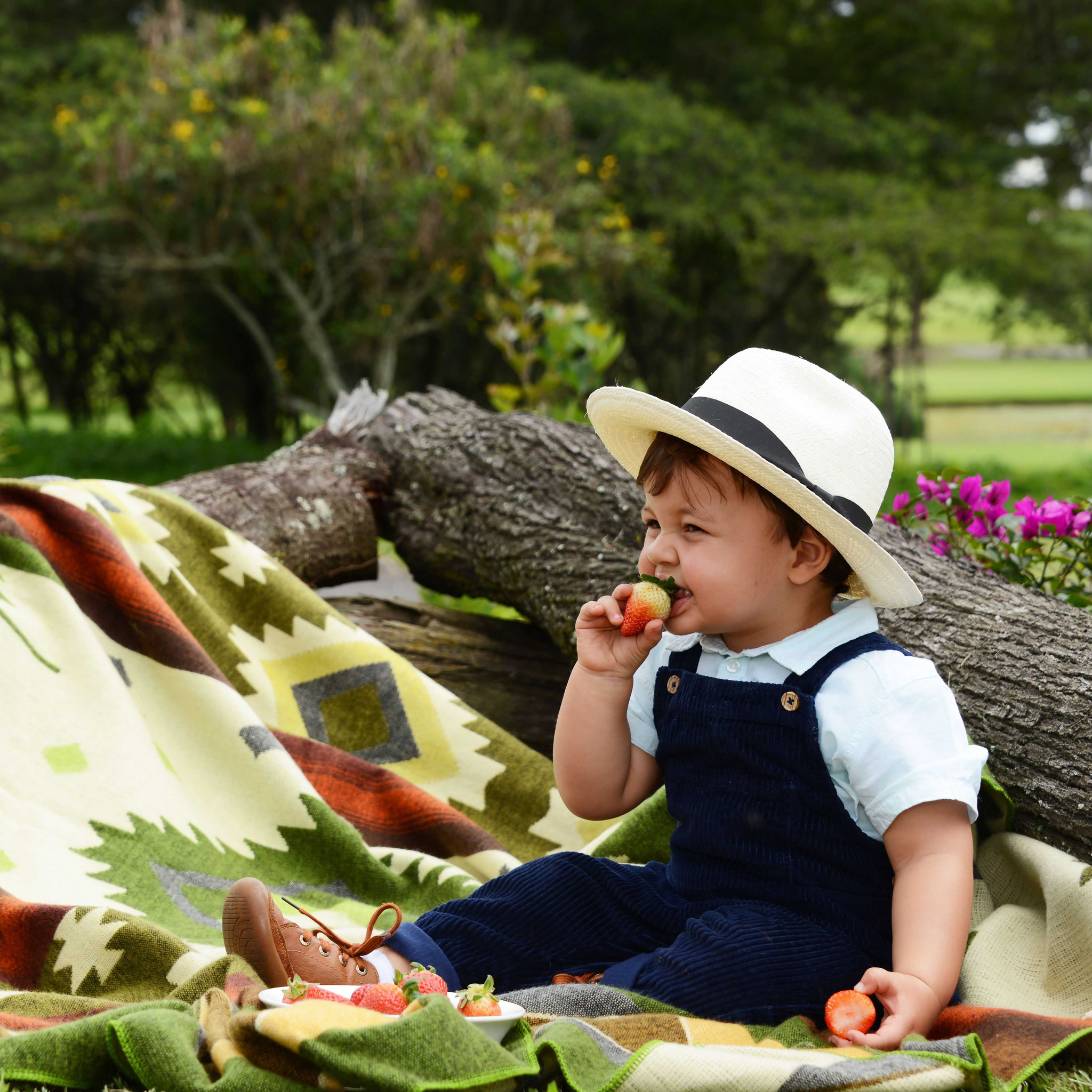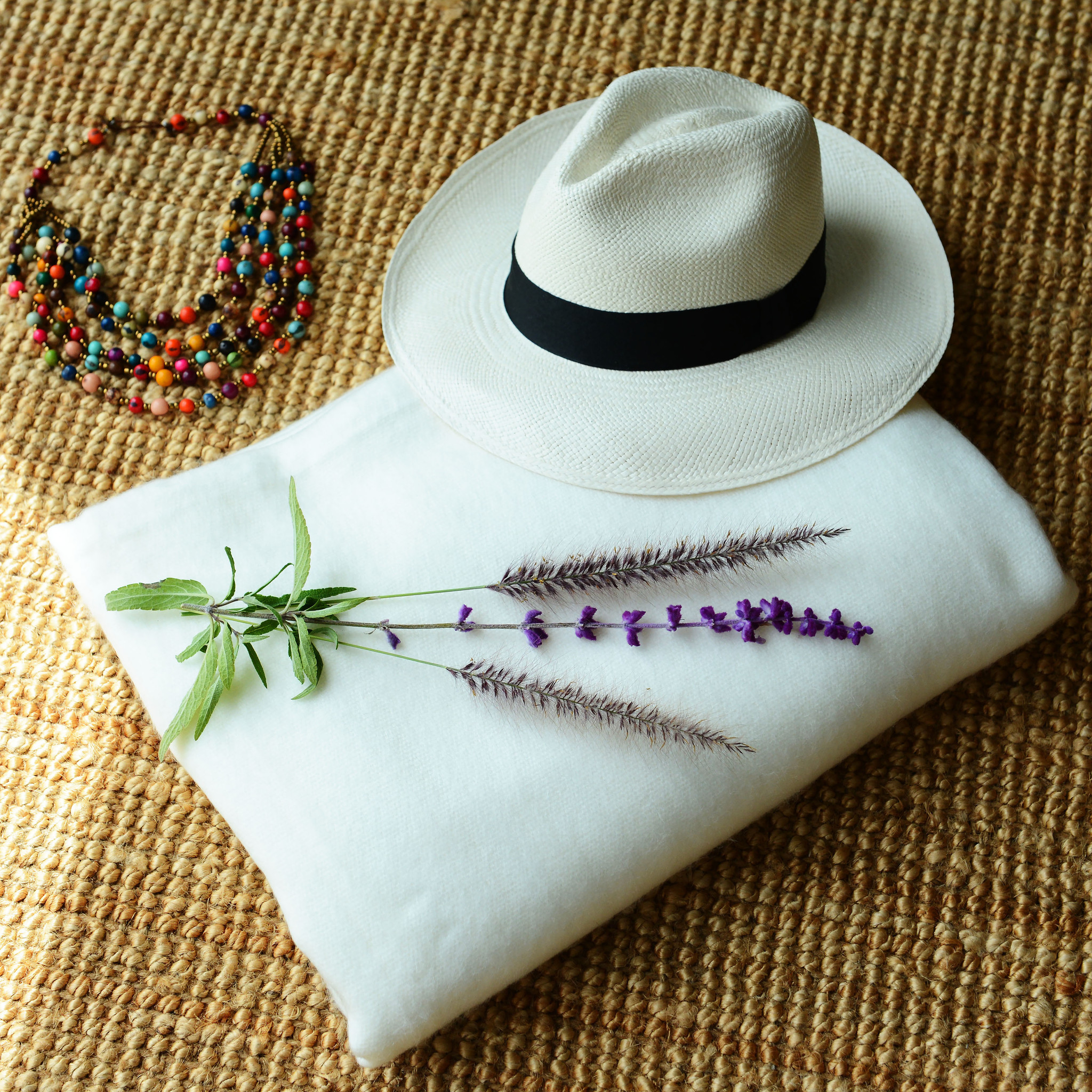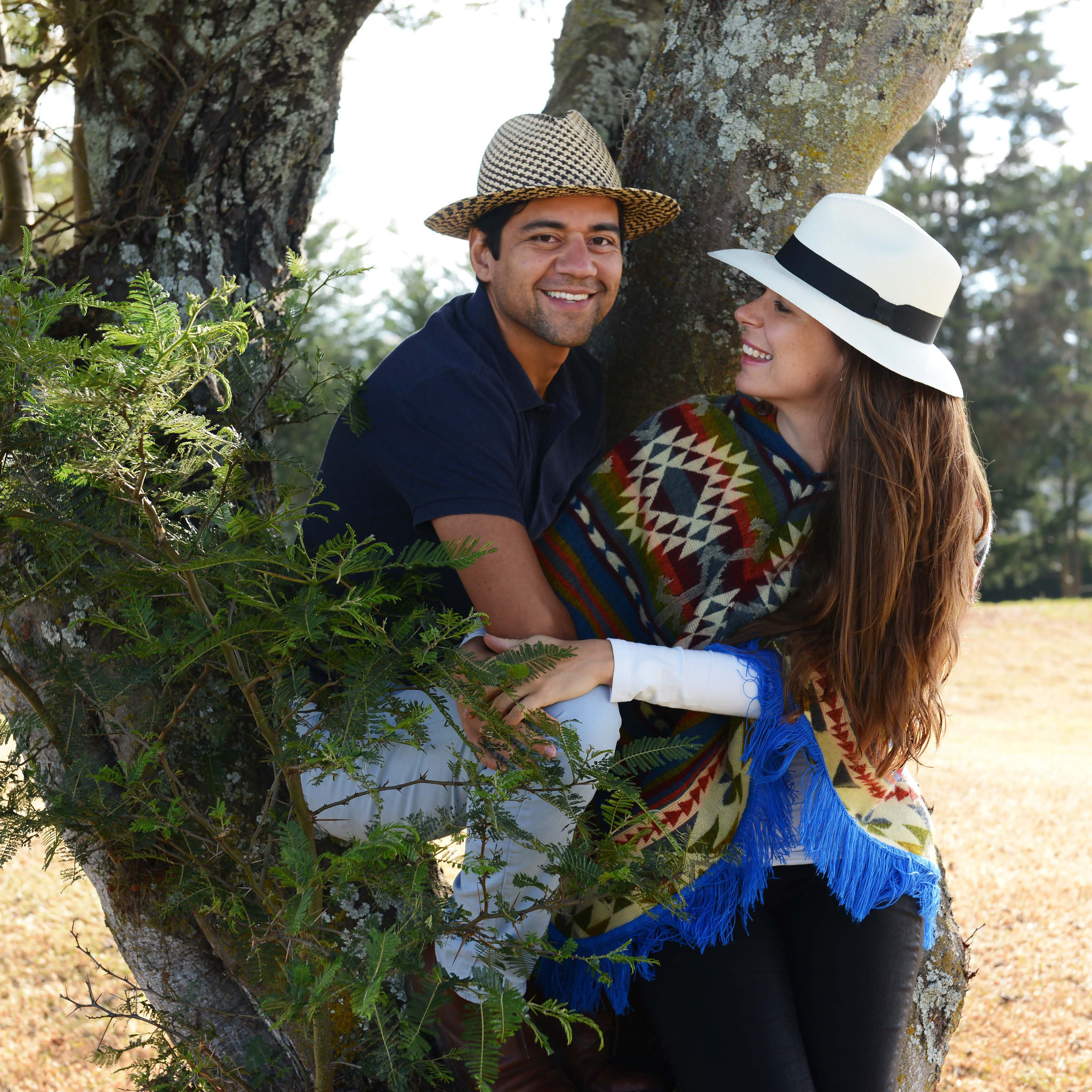 These stylish hats come from the province of Manabí in Ecuador. Many people think that the Panama hat comes from Panama, a country in Central America that is best known for the Panama Canal. But nothing is less true. The hats have been made for hundreds of years and were transported from Ecuador to Panama around 1850 to be shipped from there to Europe.
Ecuadorians also don't call these hats Panama hats but 'sombreros de paja toguilla', or toquillastro hats. The hats are still made by hand and it takes about 2 days to make one.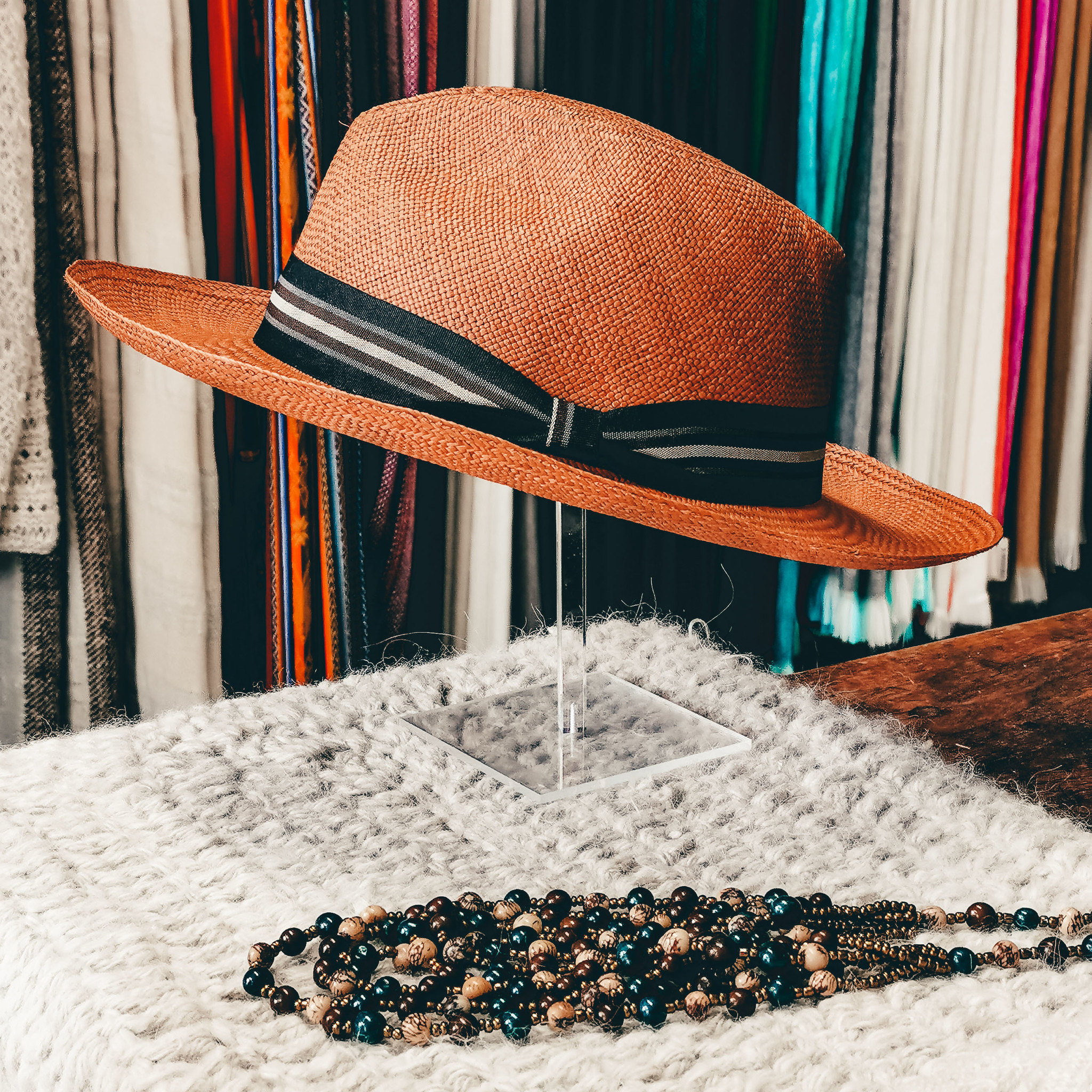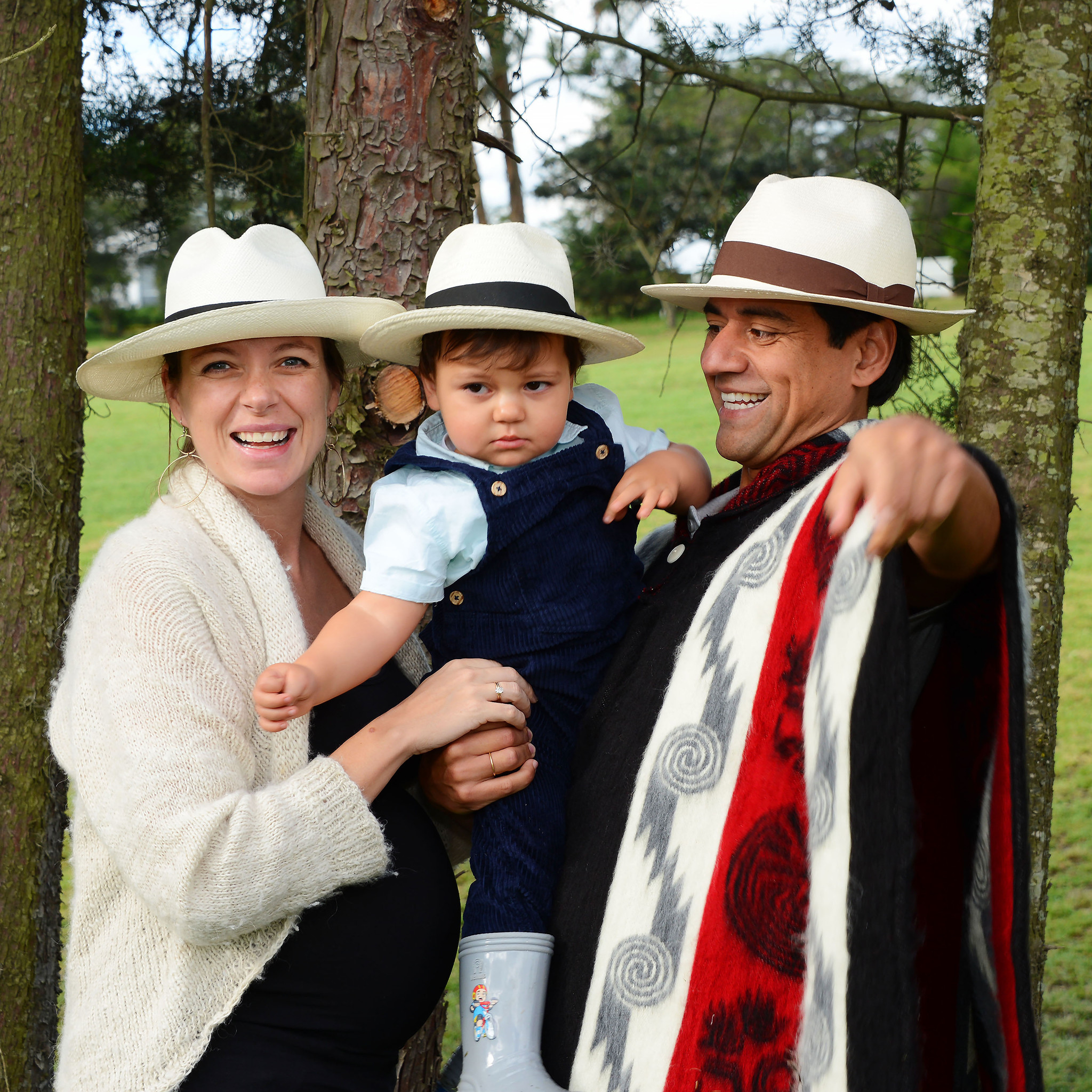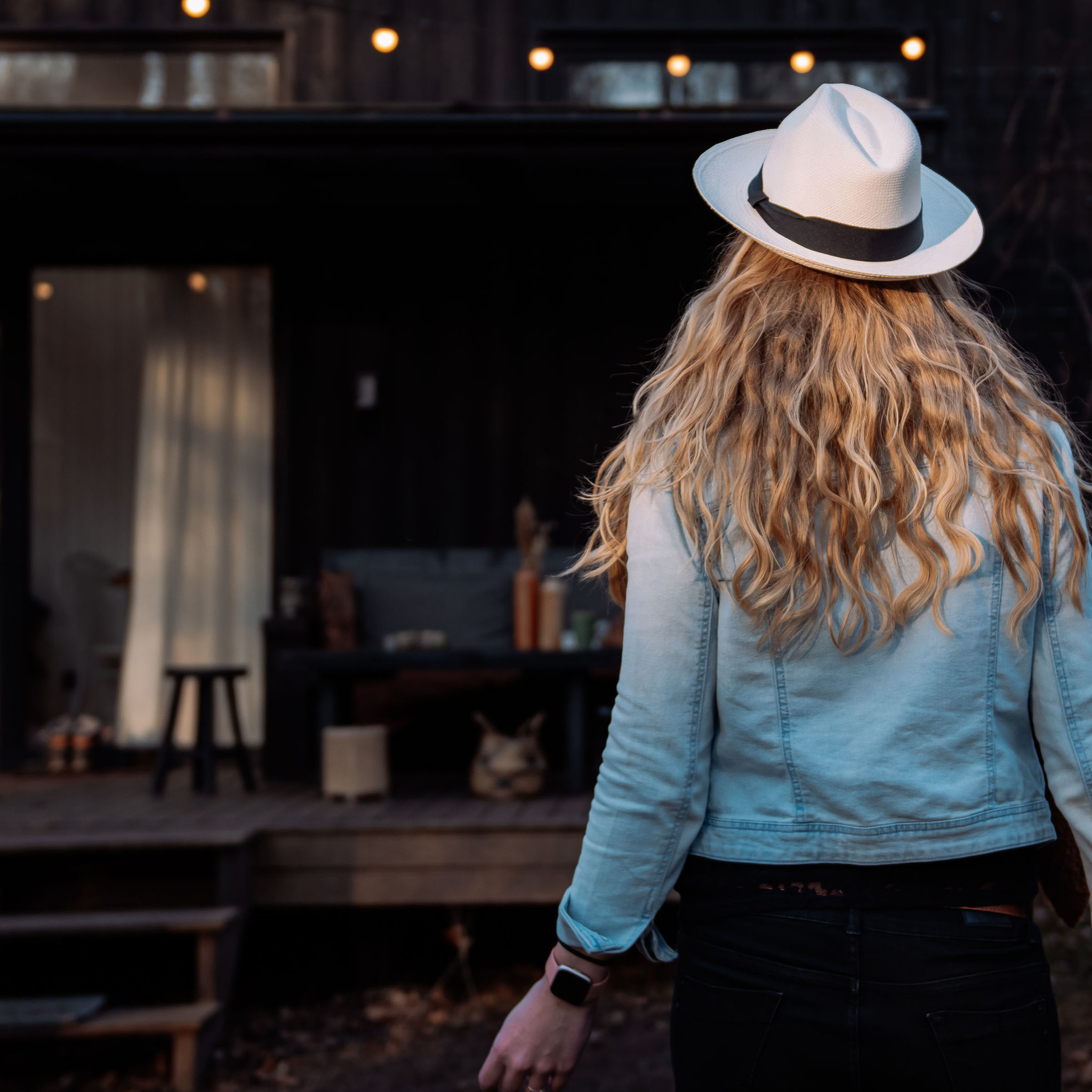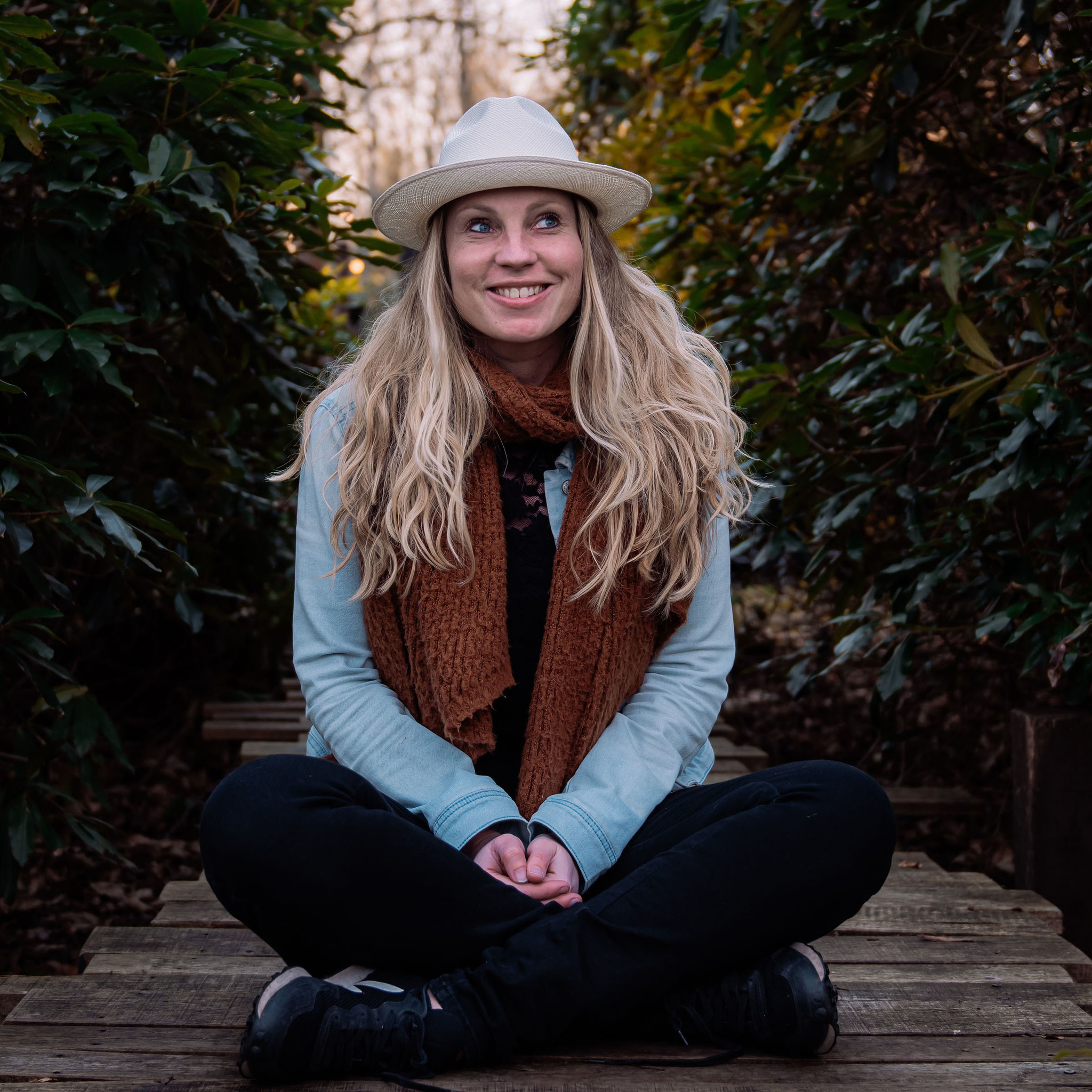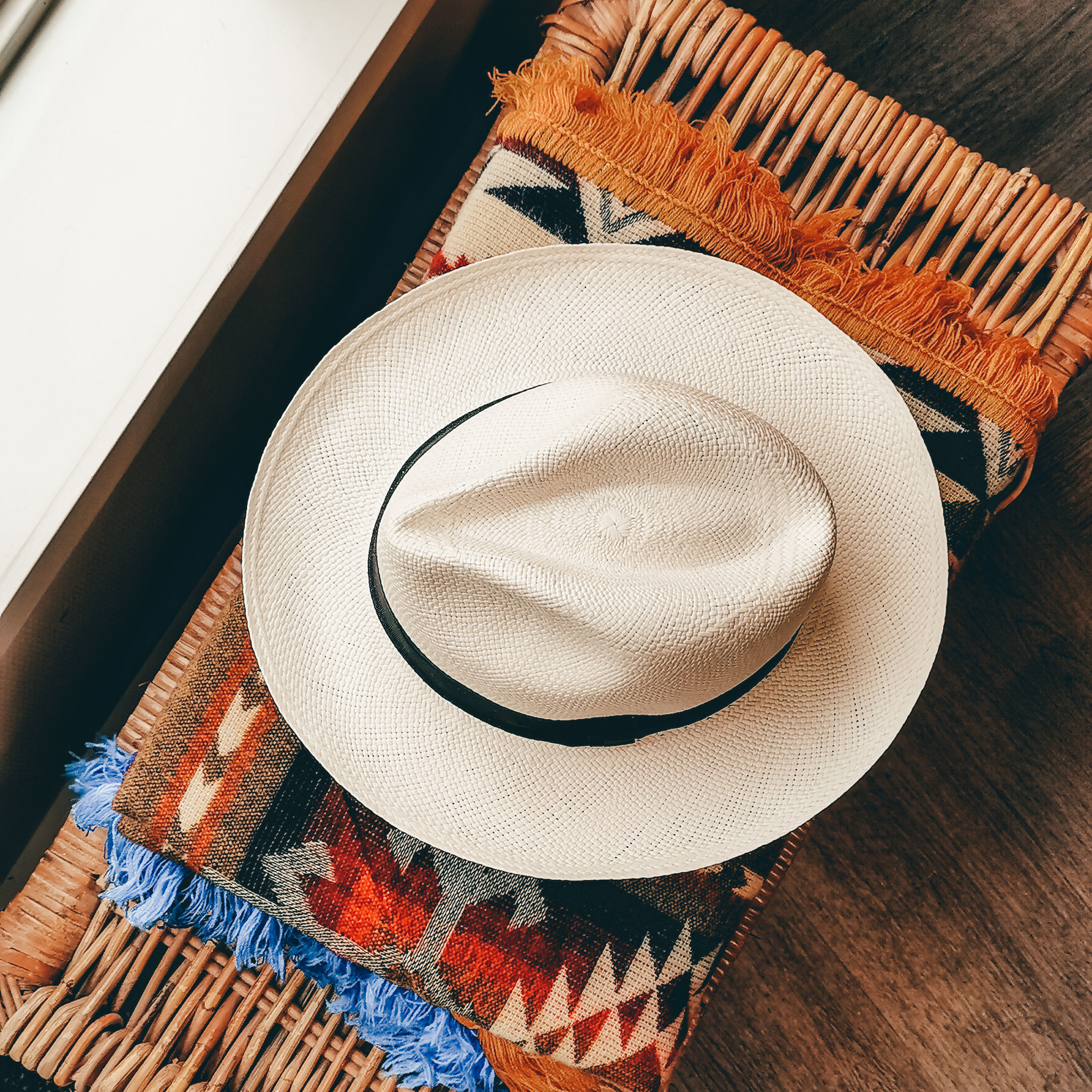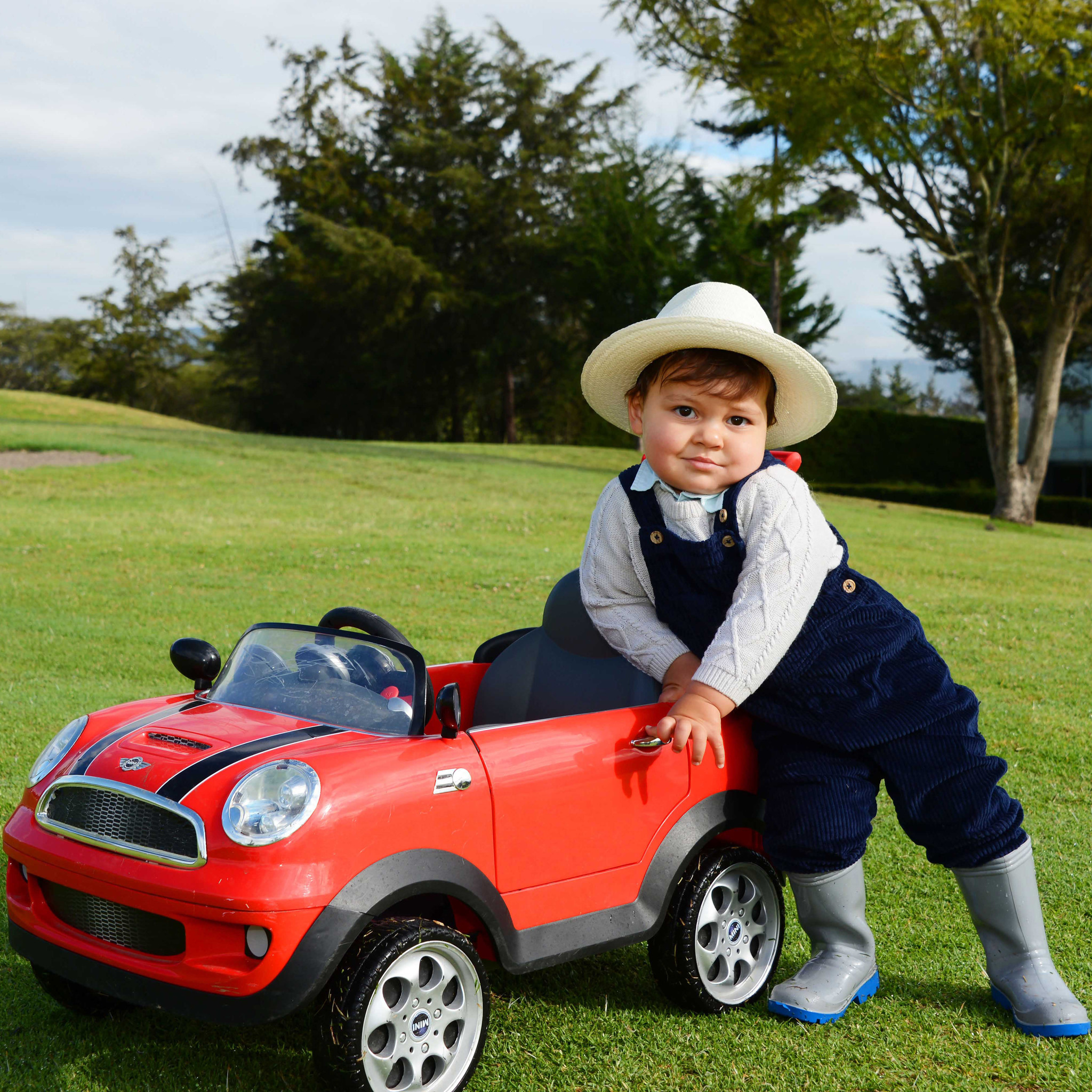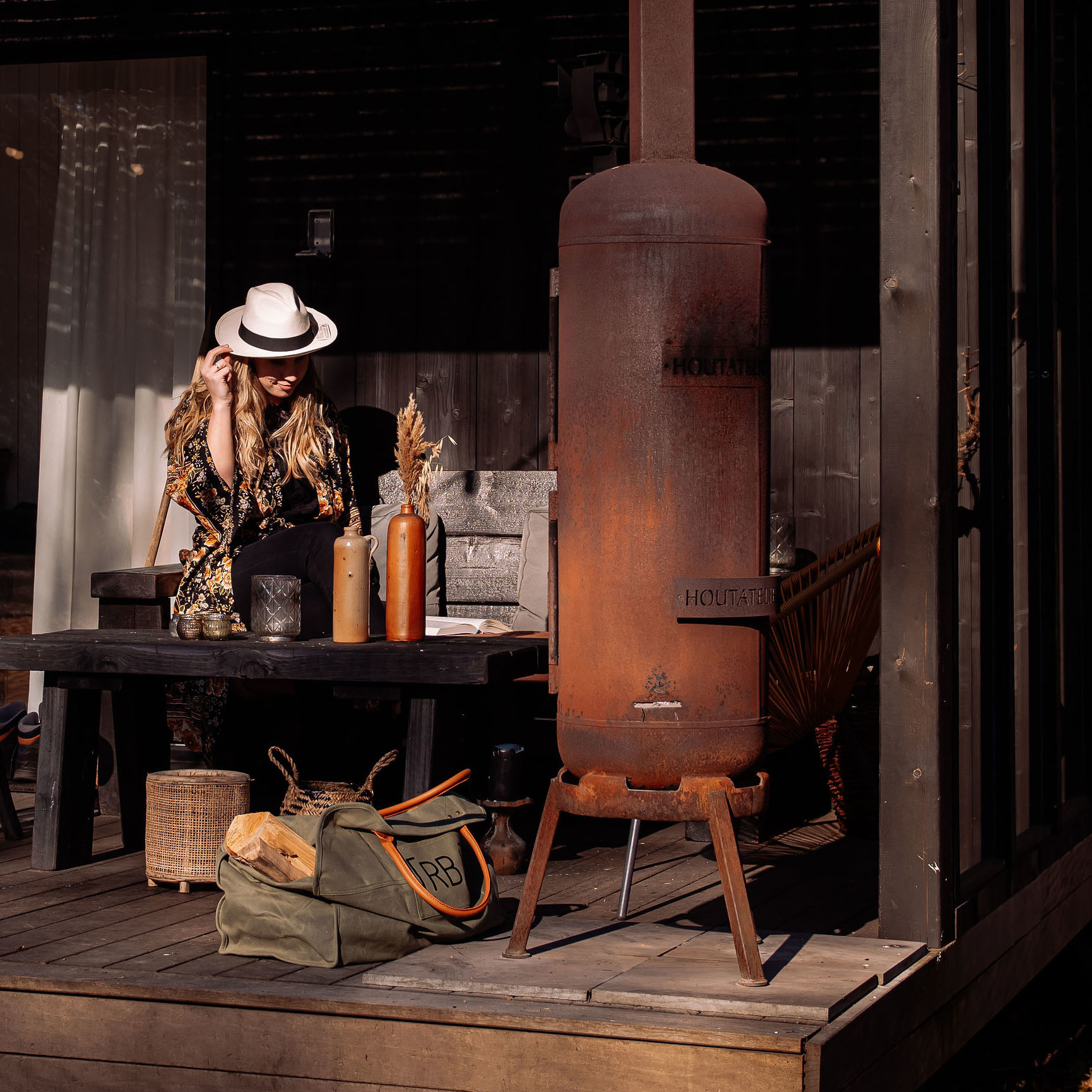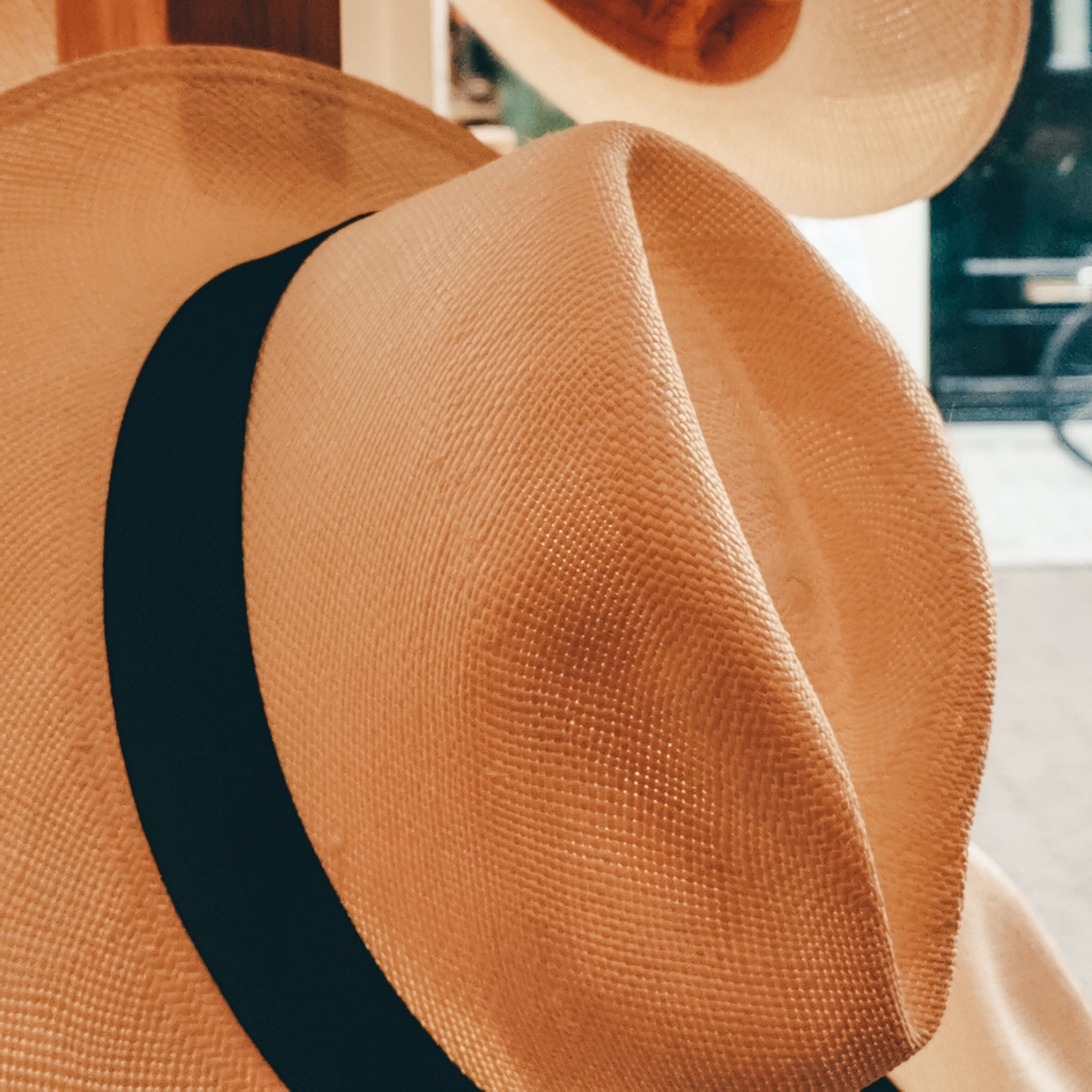 The Panama hat was made known worldwide by President Theodore Roosevelt, who wore the hat on November 16, 1906, during the construction of the Panama Canal. The Panama hat is often worn in sunny conditions. The hat is lightweight and perfect for keeping out the sun.
Tagua jewellery
Tagua jewellery is very well known in Ecuador, because 90% of the world production comes from here! This jewellery is made from the nut of the Tagua palm or the Phytelephas Aequatorialis. Phyton means plant and Elephas means ivory. Tagua is seen as vegetable ivory. The palms are located in Ecuador at an altitude of 600-1500 meters in the rainforest. And on these palms grow fruits that are covered with numerous wooden pointed horns and are full of Tagua nuts.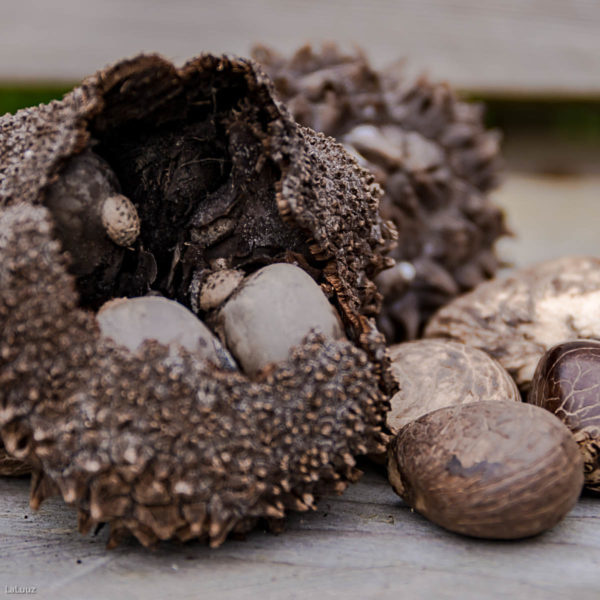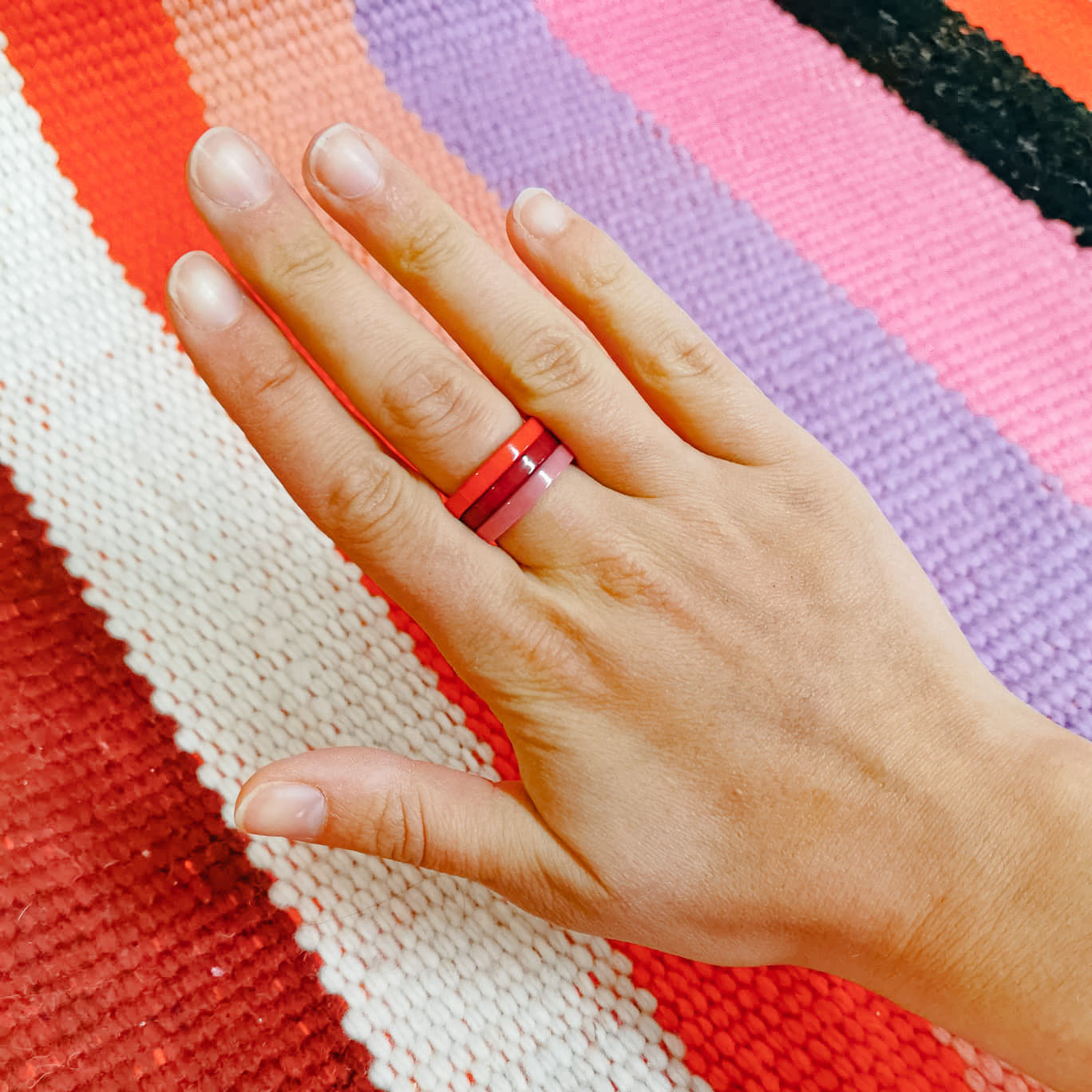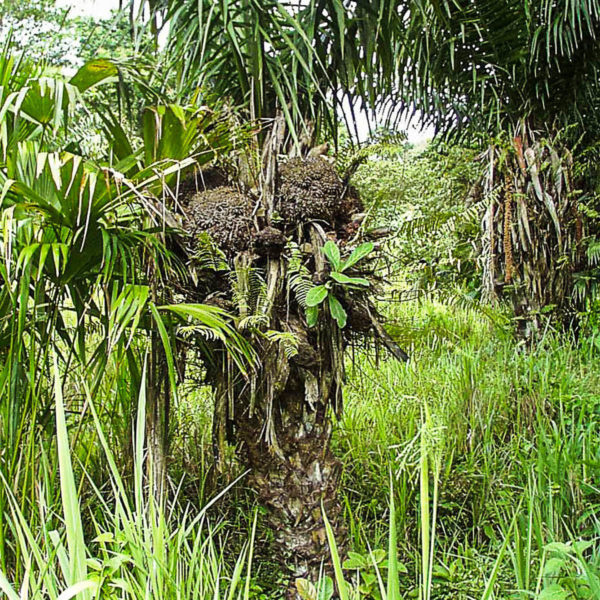 Before the Tagua nuts can be used, they must first be dried. There is white flesh in the nut which must become hard, this process can take 1 to 2 years and differs per size of the nut. After the drying process, the nuts can be ground into jewellery, buttons, figurines and much more! Did you know that even the spools of our weavers in Ecuador are made from Tagua?
Tagua is a great material, which is also a plant-based alternative to ivory. Due to the good climate and ecosystem, Ecuadorian Tagua nuts are the best in the world, so it is not for nothing that 90% of the world production comes from here!
The locals pick the nuts and dye the plant based ivory in countless cheerful colours. The veined structure of the nut is often still visible through the grain, which makes each product unique. Tagua is chic, lightweight and feels soft against the skin. If you are looking for a nice, unique and sustainable gift, this is definitely recommended!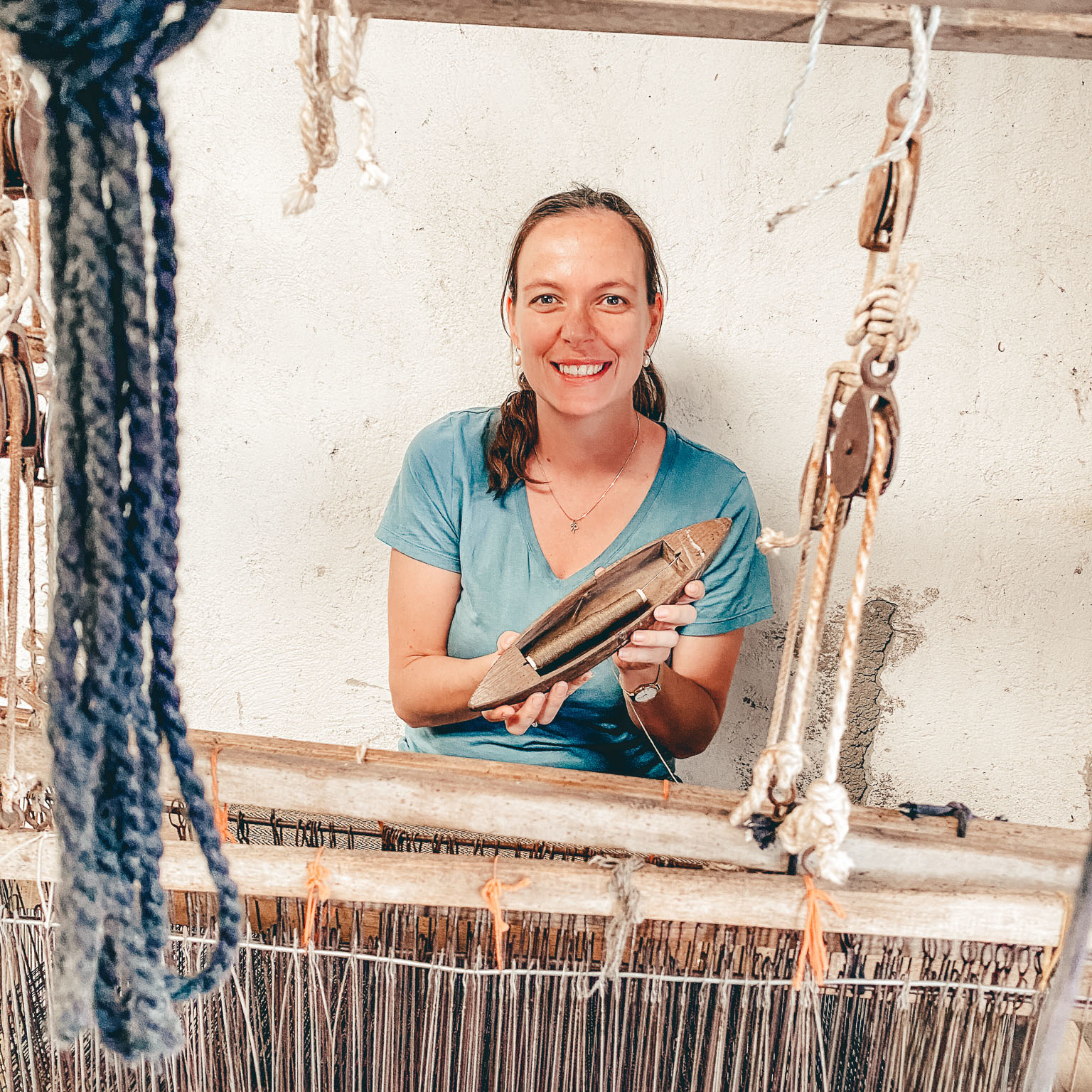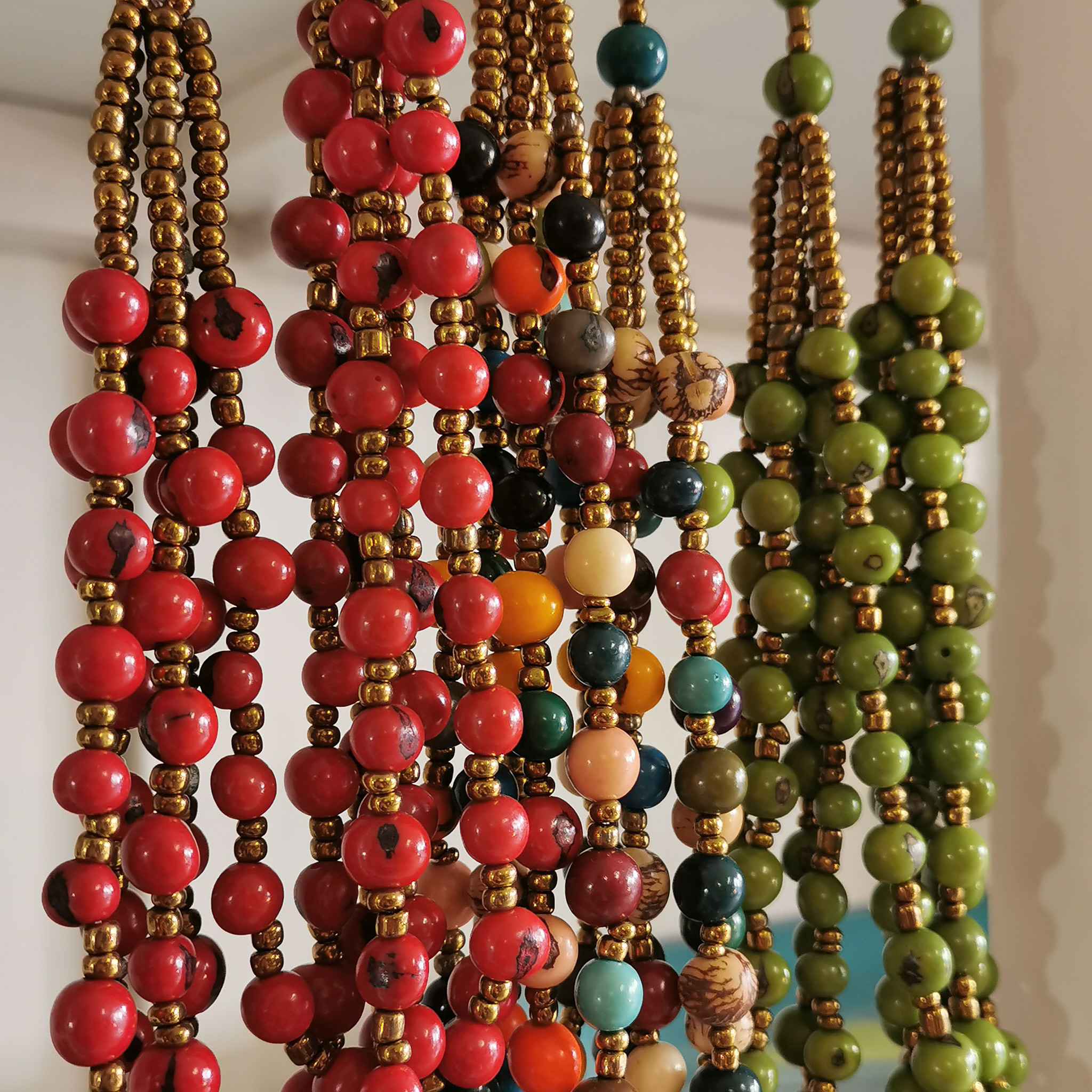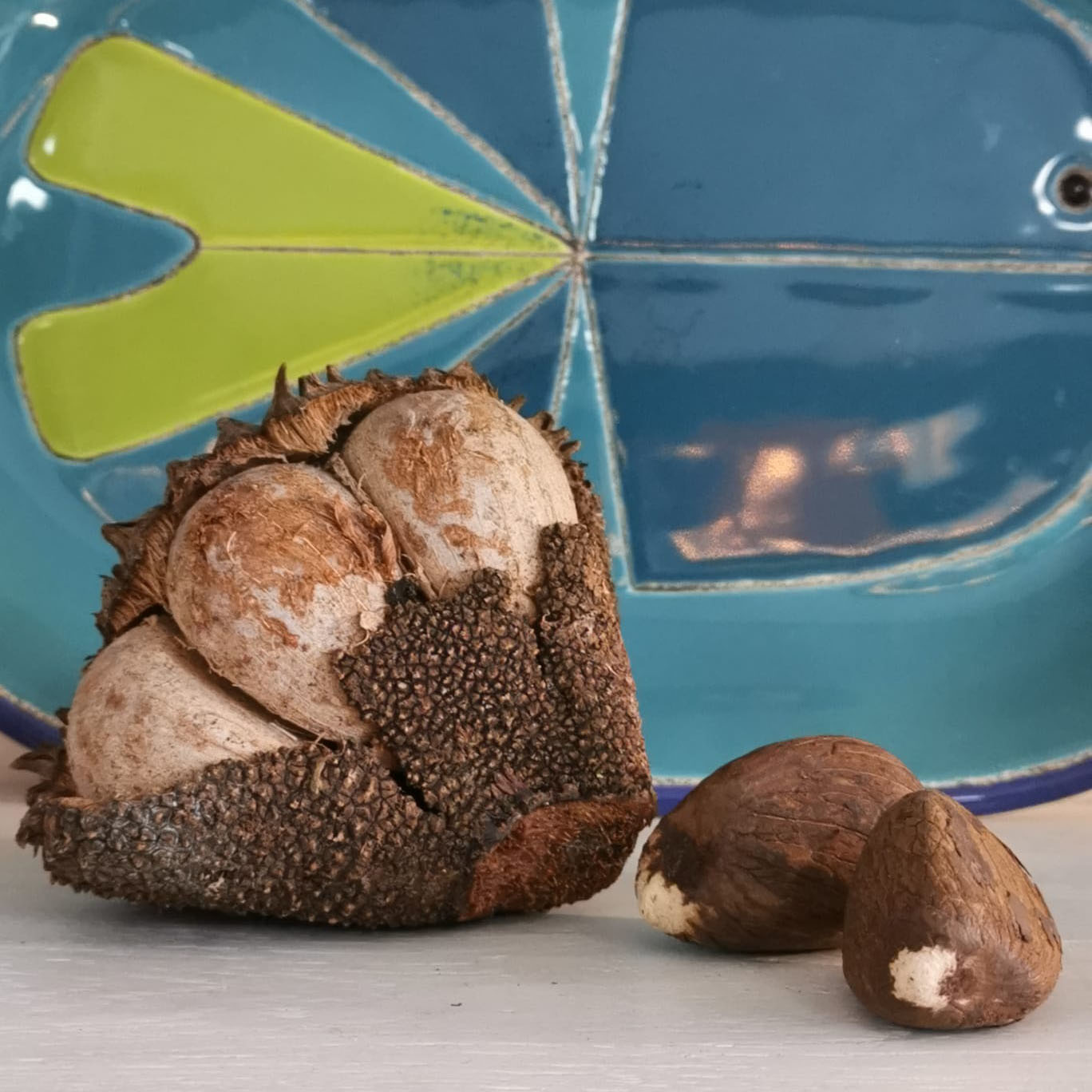 Pottery from Cuenca
Next to the capital Quito, Cuenca is the most important and most beautiful colonial city of Ecuador. With old colonial churches, beautiful rivers and Spanish and indigenous influences, Cuenca is a bustling city of the south. The city is located more than 450 kilometers from Quito and has everything to offer you. Culture, good food, nice squares and friendly inhabitants.
'The Athens of the Andes'
That is the nickname of this special city. Cuenca is a city of architecture, poets, philosophers, artists and performers. That is why we also get such beautiful products from there! The large white wooden cabinet in our shop is filled with beautiful pottery in the form of plates, bowls, mugs, vases and much more. Everything is made and finished by hand and you can see that in every product. Small differences, in our opinion, give the product its charm.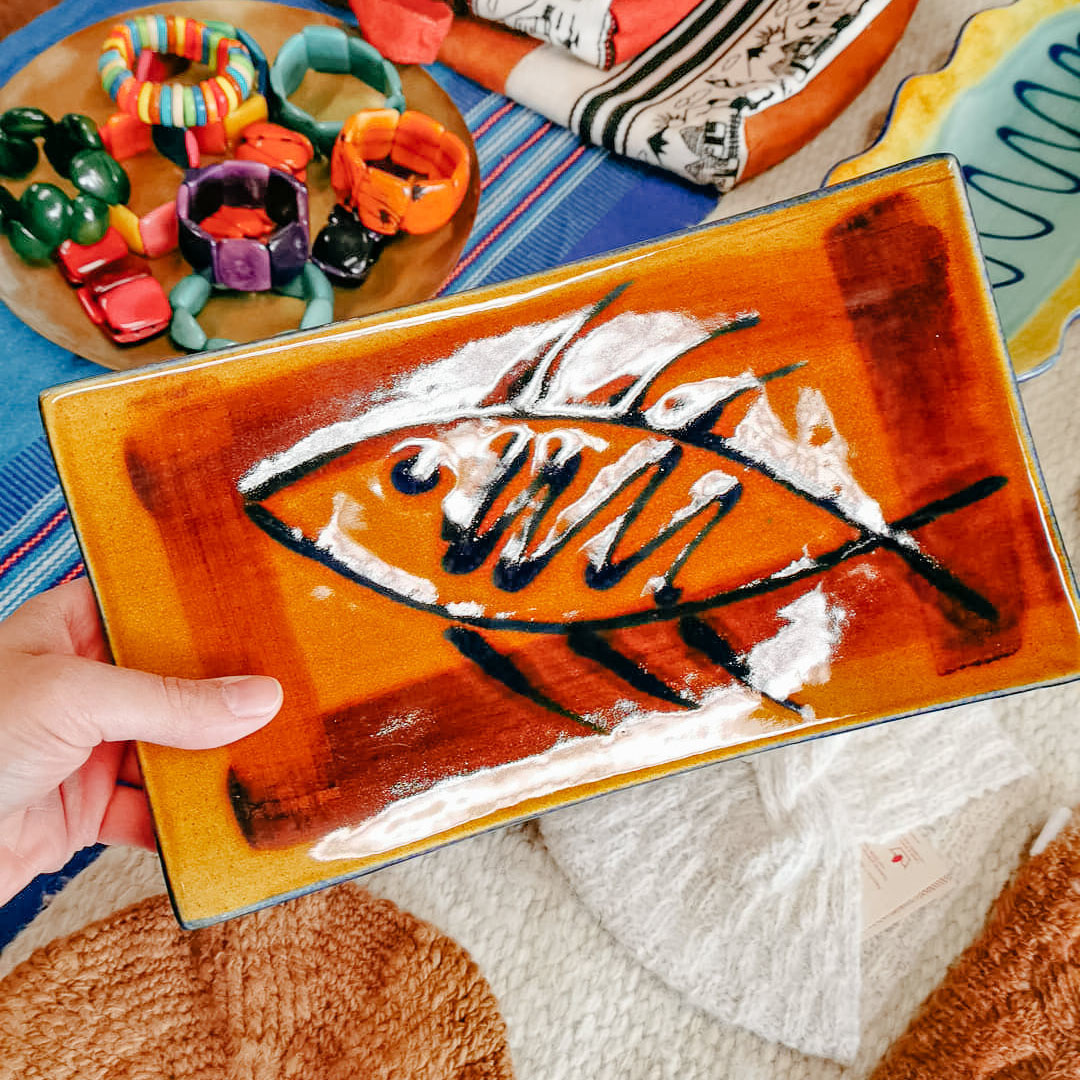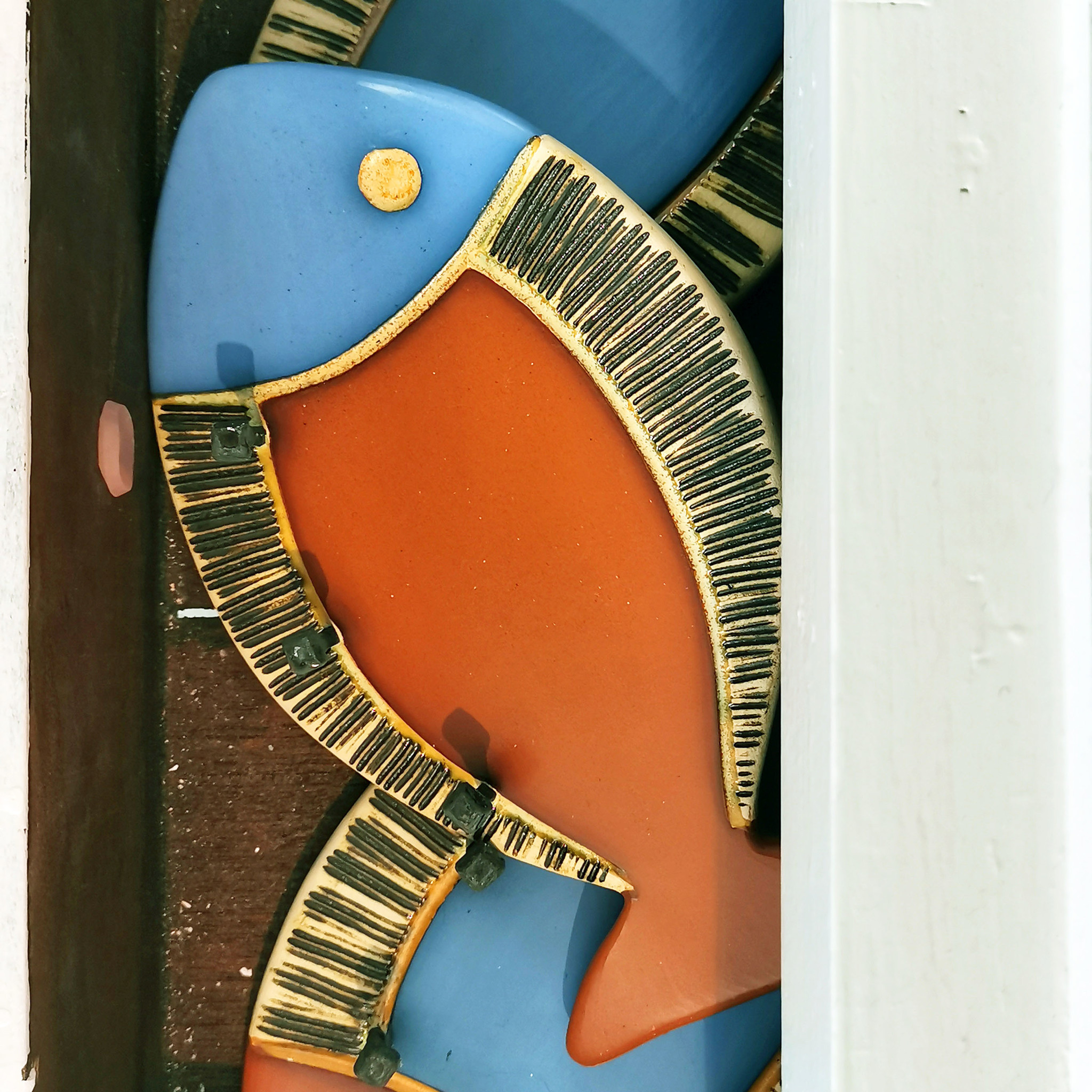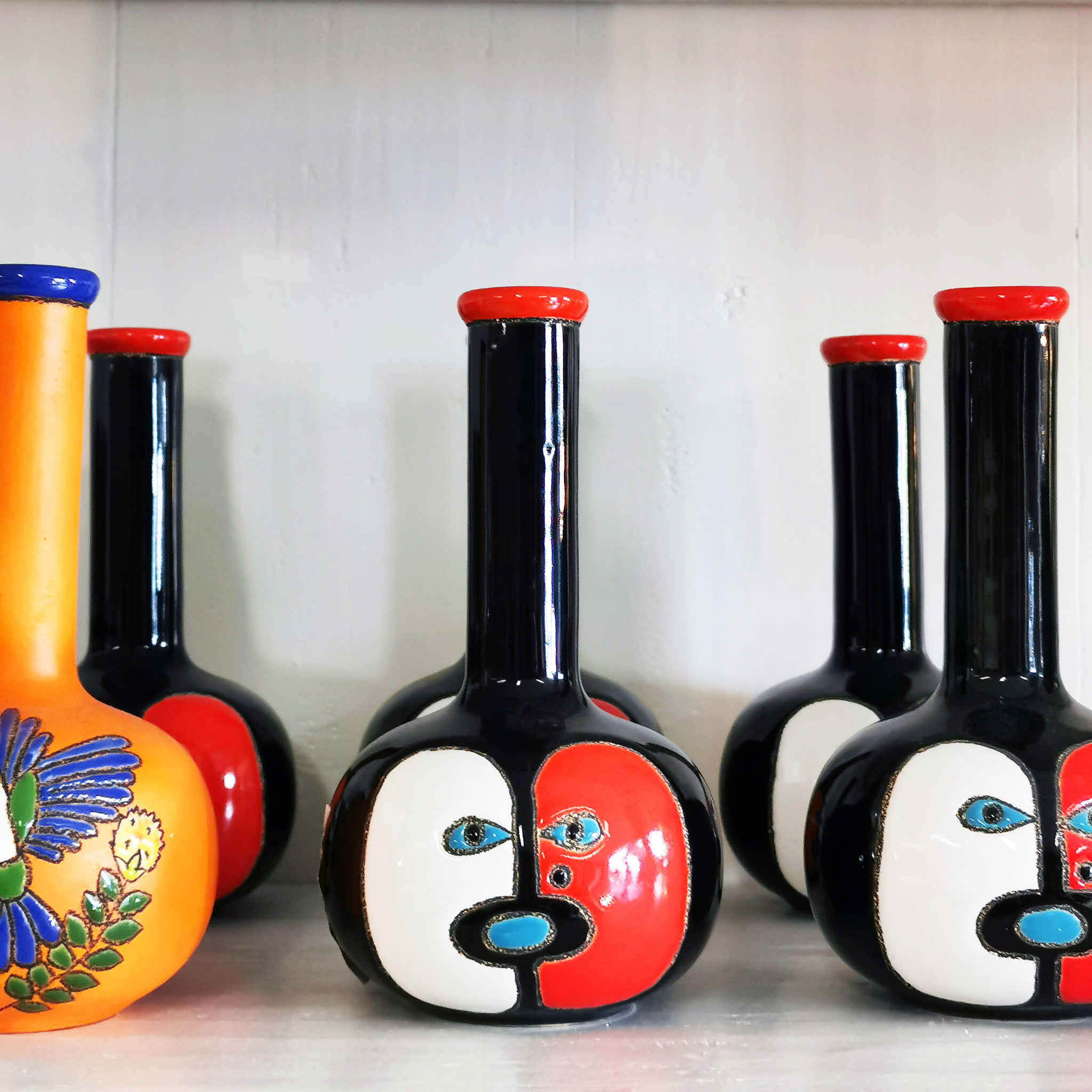 URMA avocado oil
In our travel concept store we also sell URMA avocado oil. This is extra virgin avocado oil that is made from Hass avocados. And I can hear you thinking 'Hass avocados what are those?' Well that's a certain type of avocado. Hass avocados are dark brown and have a bumpy skin. These avocados are grown by Uyama Farms in Ecuador. Fair, organic and sustainable agriculture is used here.
Avocado oil is a good source of essential fatty acids, minerals, vitamins and antioxidants. If you ever visit such a beautiful plantation through Rebecca Adventure Travel, you will immediately notice that the owners (father and daughter) have tremendous love and respect for Mother Nature. Their mission is to make honest products in balance with nature.
Colorful h
andwoven rugs
Ecuador has many crafts, including weaving. Our native plaids, scarves, ponchos and hammocks are woven using old weaving machines. These machines are operated by hand, which is a labour-intensive process.
But authentic weaving has not forgotten several artisans in Ecuador and is still passed on from generation to generation. Emanuel weaves for us the most colorful rugs you can imagine. Jose fills the pattern with different colored yarns and finally knots the ends of the different colored yarns together at the back. That's craftsmanship!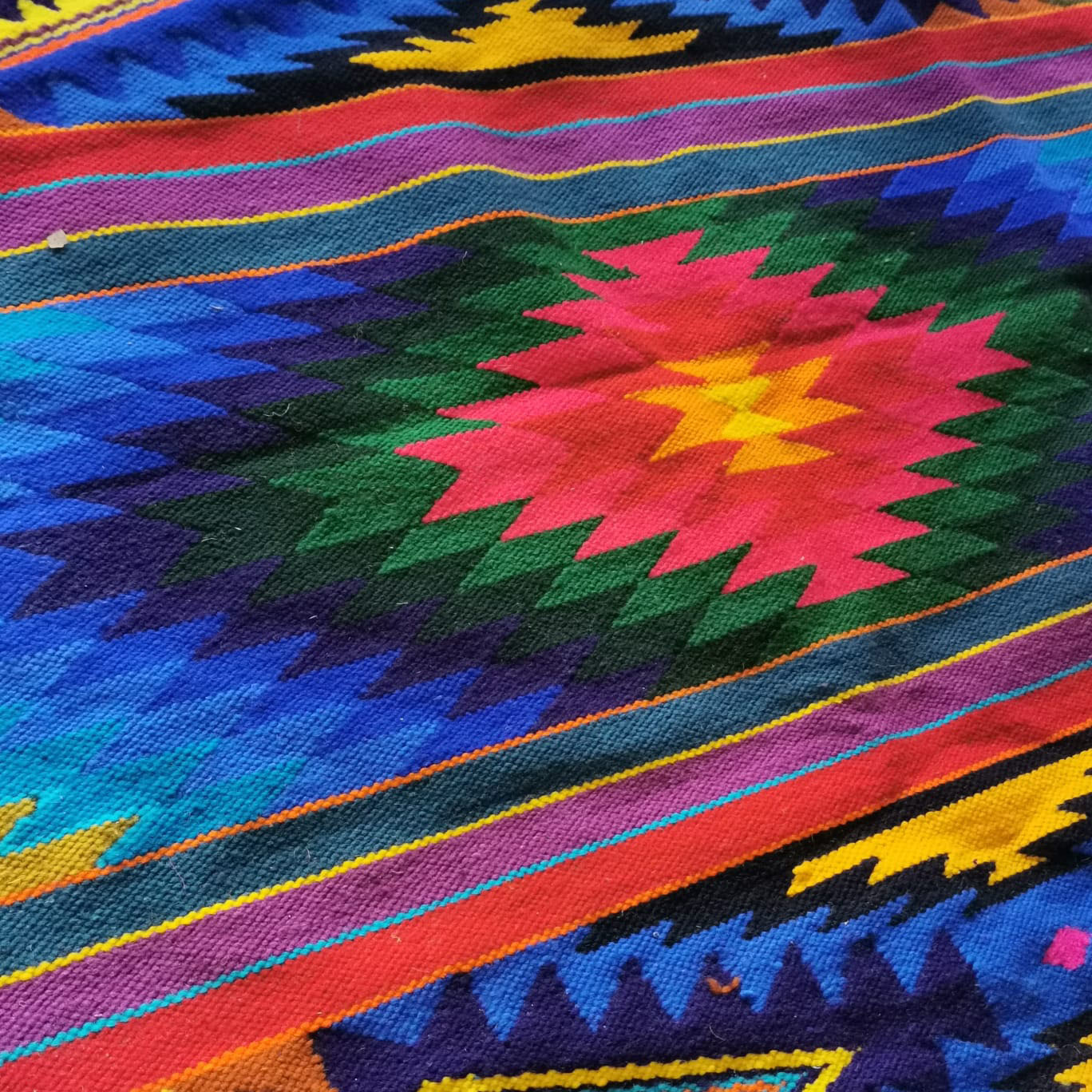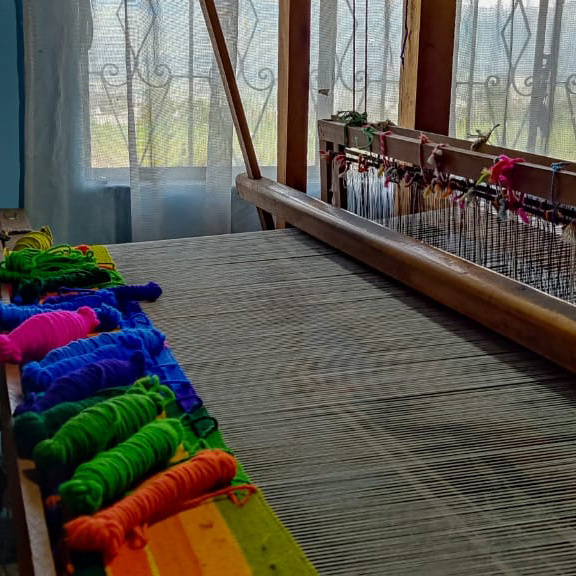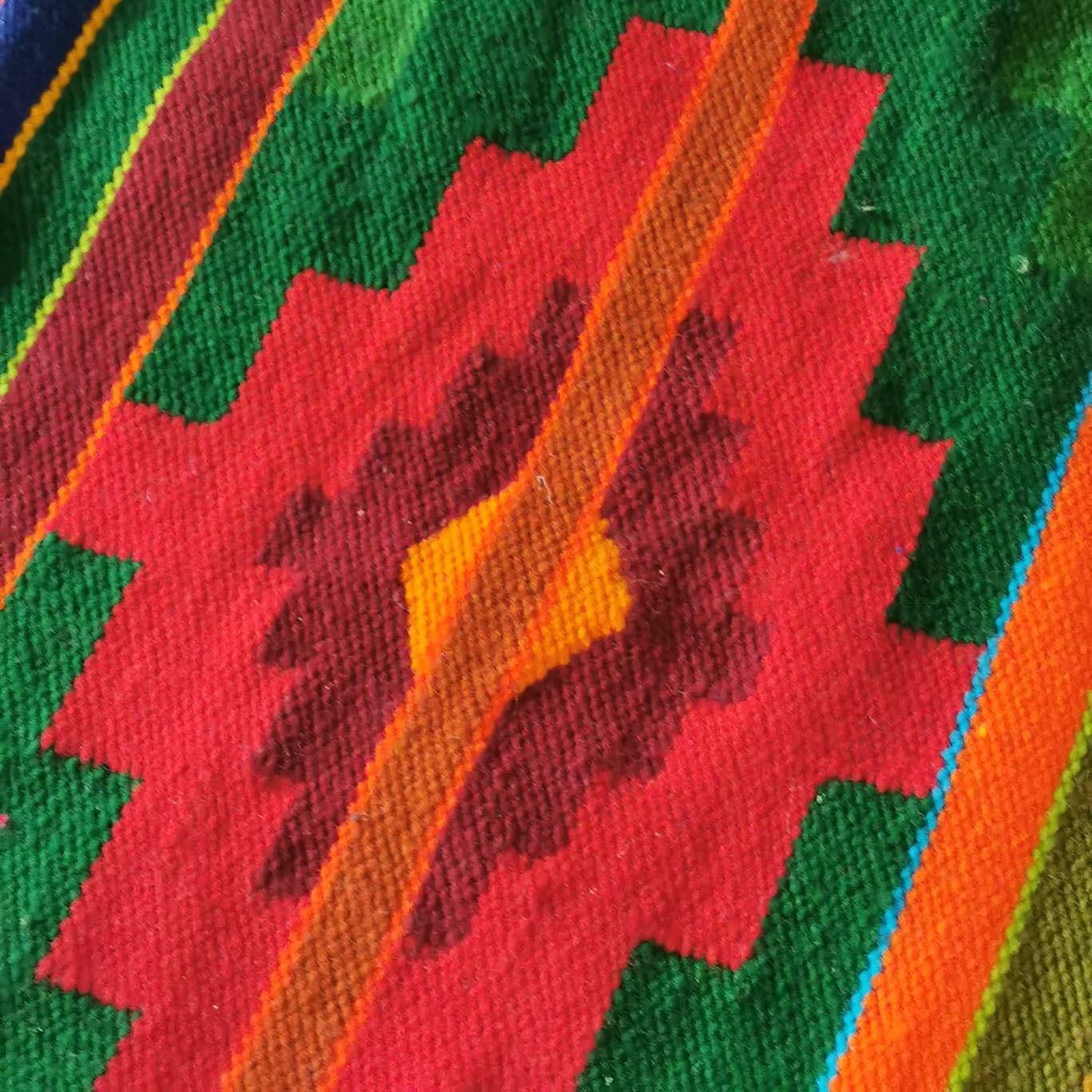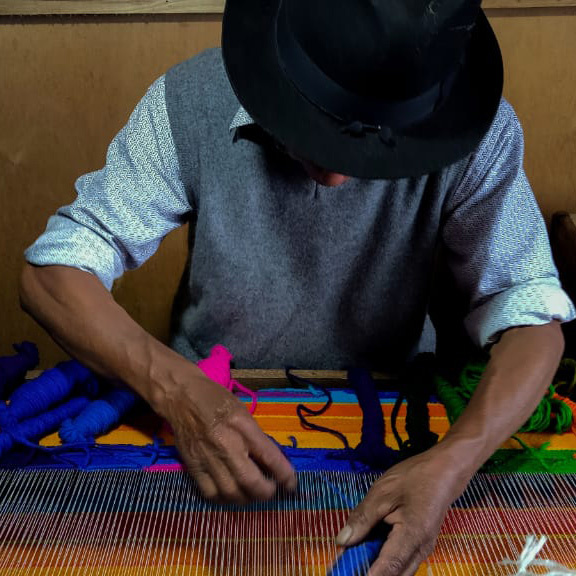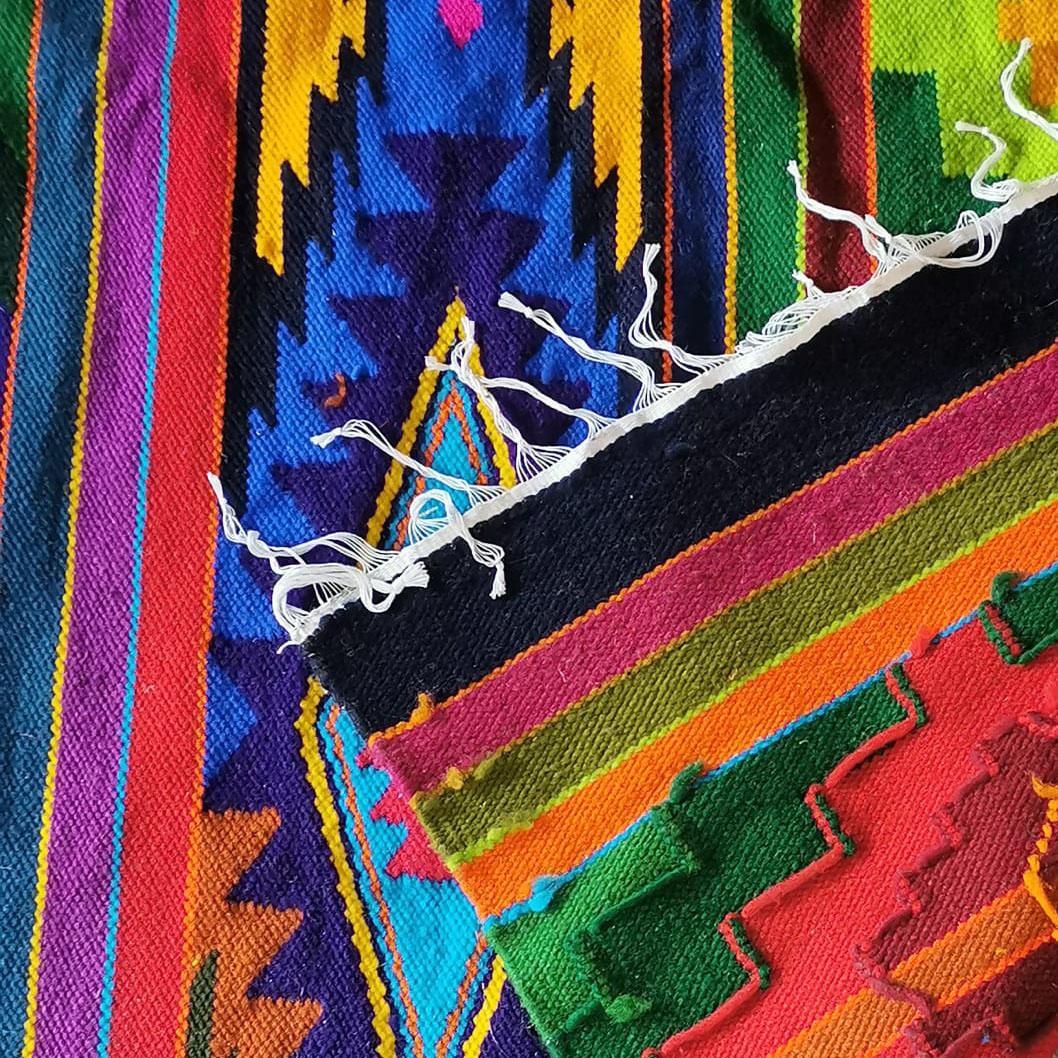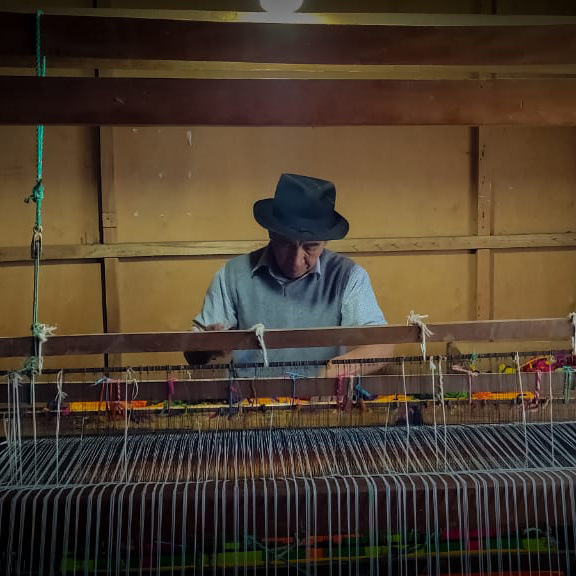 These beautiful Ecuadorian rugs are approximately 170 cm long and 120 cm wide. Every rug is different, no one is the same and that makes this product even more special. In the middle photo you can see how the different color areas are tied together. Due to the bright and cheerful colours, such a hand-woven rug immediately brightens up your interior. These rugs are made of 100% sheep wool, which is very sturdy and durable.
Silver jewellery
Priscila Arias makes special filigree jewellery for us. Filigree means that you tie silver or gold 'threads' in a particular pattern. This is all done by hand!
Priscila is from the Azuay province in Ecuador and started her business 24 years ago in 1997. It started as a hobby but has later grown into a business where the family can now live on. Priscila's specialty is silver and gold filigree jewelry. She is inspired by nature for her designs. She makes the most beautiful earrings and other jewelry from sterling silver and gold plated. In the store we have a varied collection, from minimalist buttons to maximalist pendants.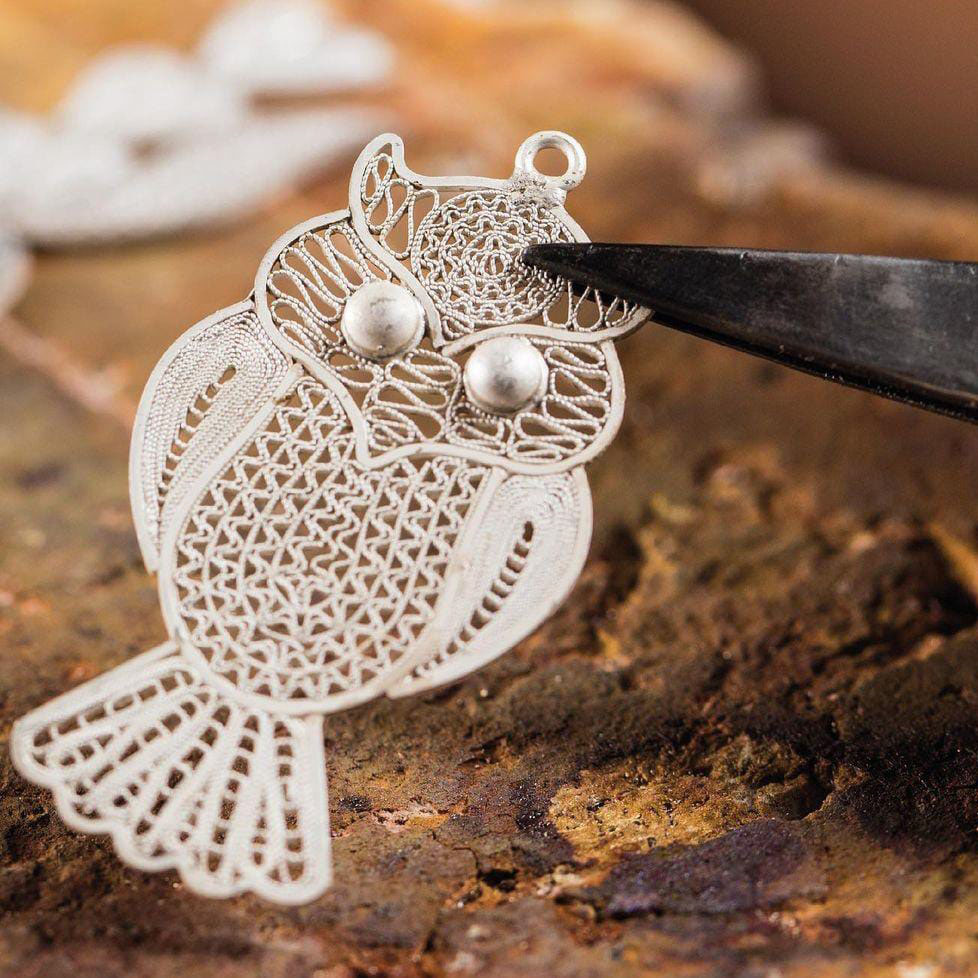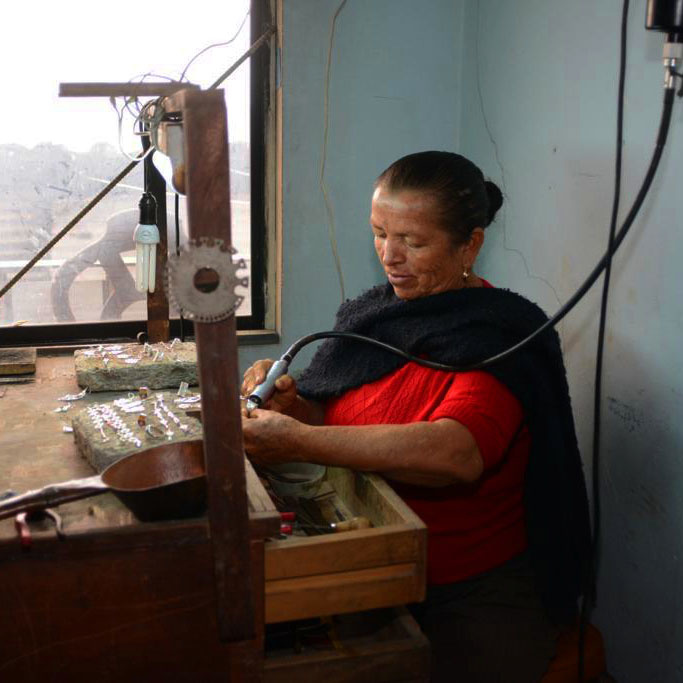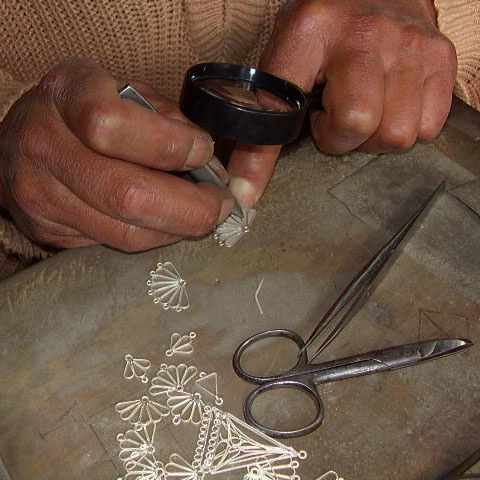 Paqocha
100% alpaca wool products
Paqocha is an Ecuadorian brand that makes products from pure alpaca wool. These products are made by local communities in Ecuador. Paqocha is the first initiative in Ecuador to breathe new life into the traditional processing of alpaca fibres.
People spin the yarns using the 'guango y huso' technique. This has been passed down through the ancestors from generation to generation and thus comes from the ancestors. The images below show how the 'guango y huso' technique works.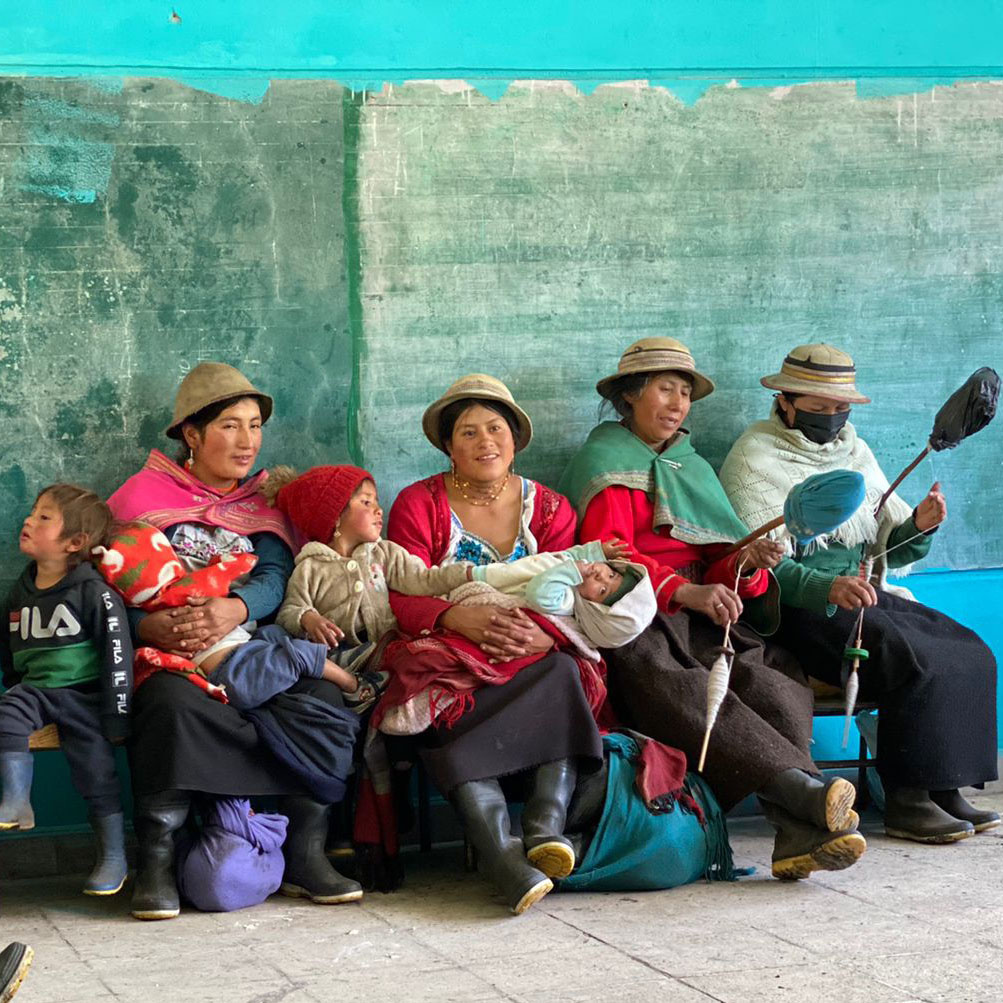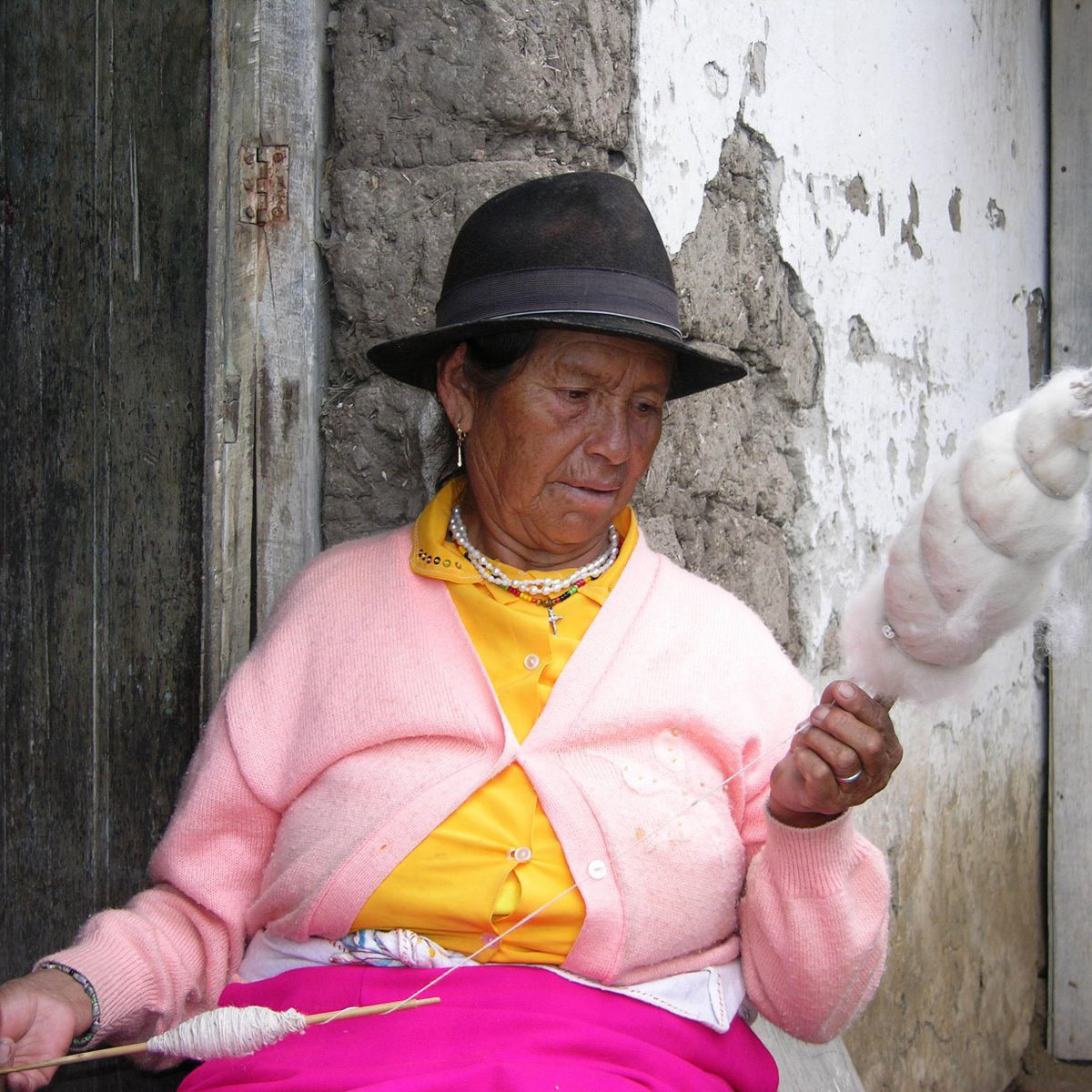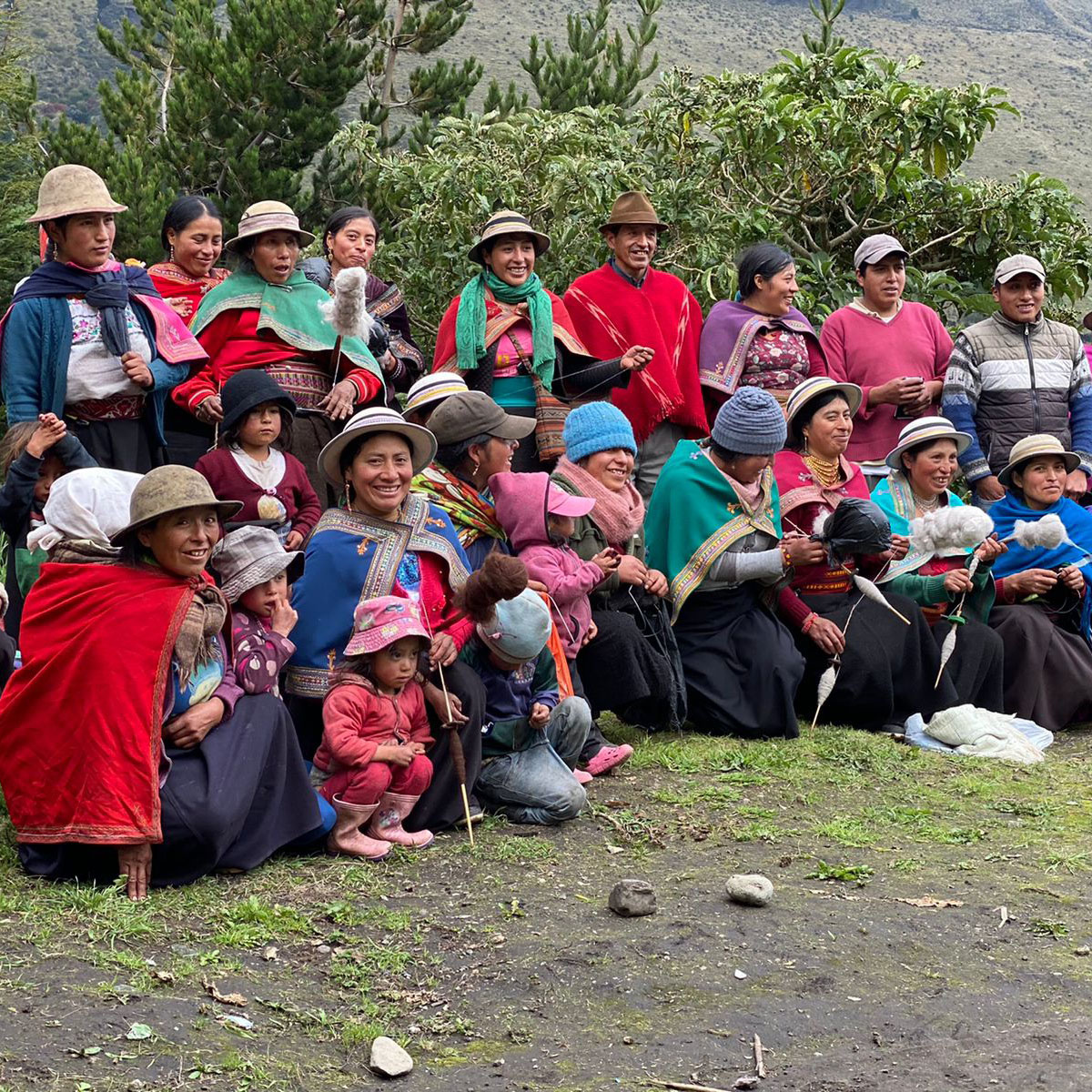 The people knit and weave in the old-fashioned way, namely by hand. For the woven fabrics, people use the 'back-strap loom weaving' technique. This is a simple loom, with one end of the warp thread attached to a belt that runs over the weaver's back and the other end to a beam. In this way the weaver can keep the loom under tension. This ancient technique is mainly used in Central and South America. In the image below we show a 'back-strap weaving loom'.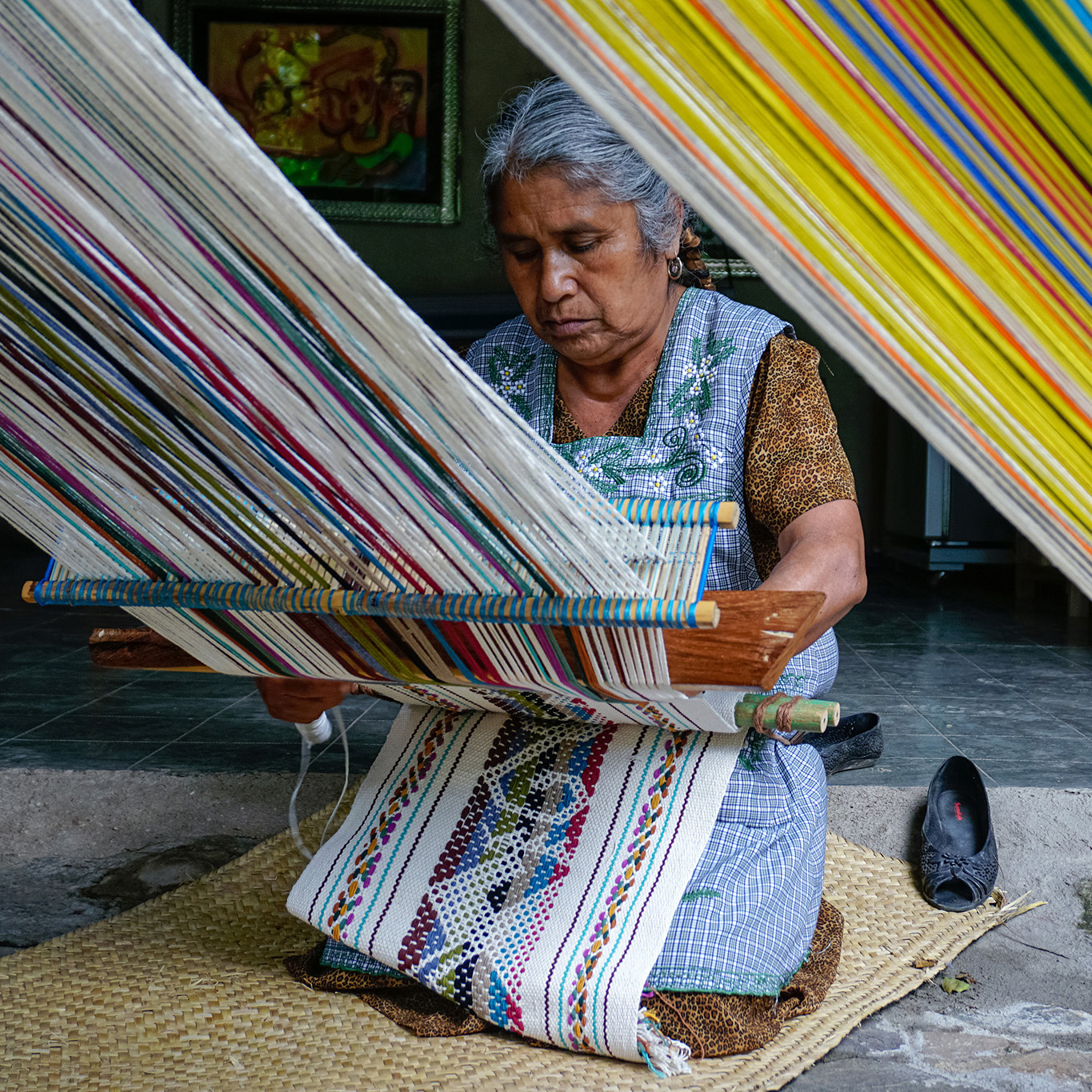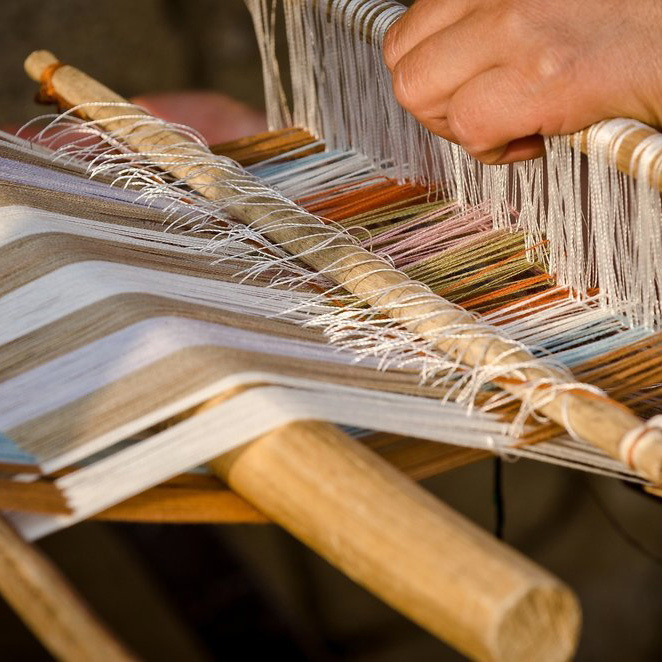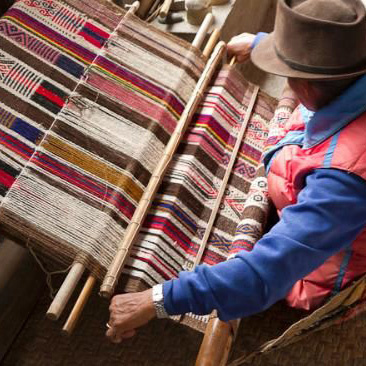 At the market in Otavalo, the Otavaleños and indígena (locals) sell handmade ponchos, bags, rugs, hats, hammocks, jewelry and much more. It is a dizzying assortment of traditional crafts. The market is every day at Plaza de Ponchos. This market has been the most important market in the Andes for hundreds of years.
This is where we get our bags from. We have different types, there is also so much beautiful that you can hardly choose. We have our eye on the various fabric bags with leather details and cheerful print. These fabric bags are available in backpacks and shoulder bags. In addition, we also sell suede shoulder bags for all the small things you take with you on the go.
And last but not least, we have genuine leather bags with beautiful embroidered and fabric details. Ideal for shopping at the market or for a day out. There is only 1 copy of all bags, which makes each bag unique! Nice to give but also to receive.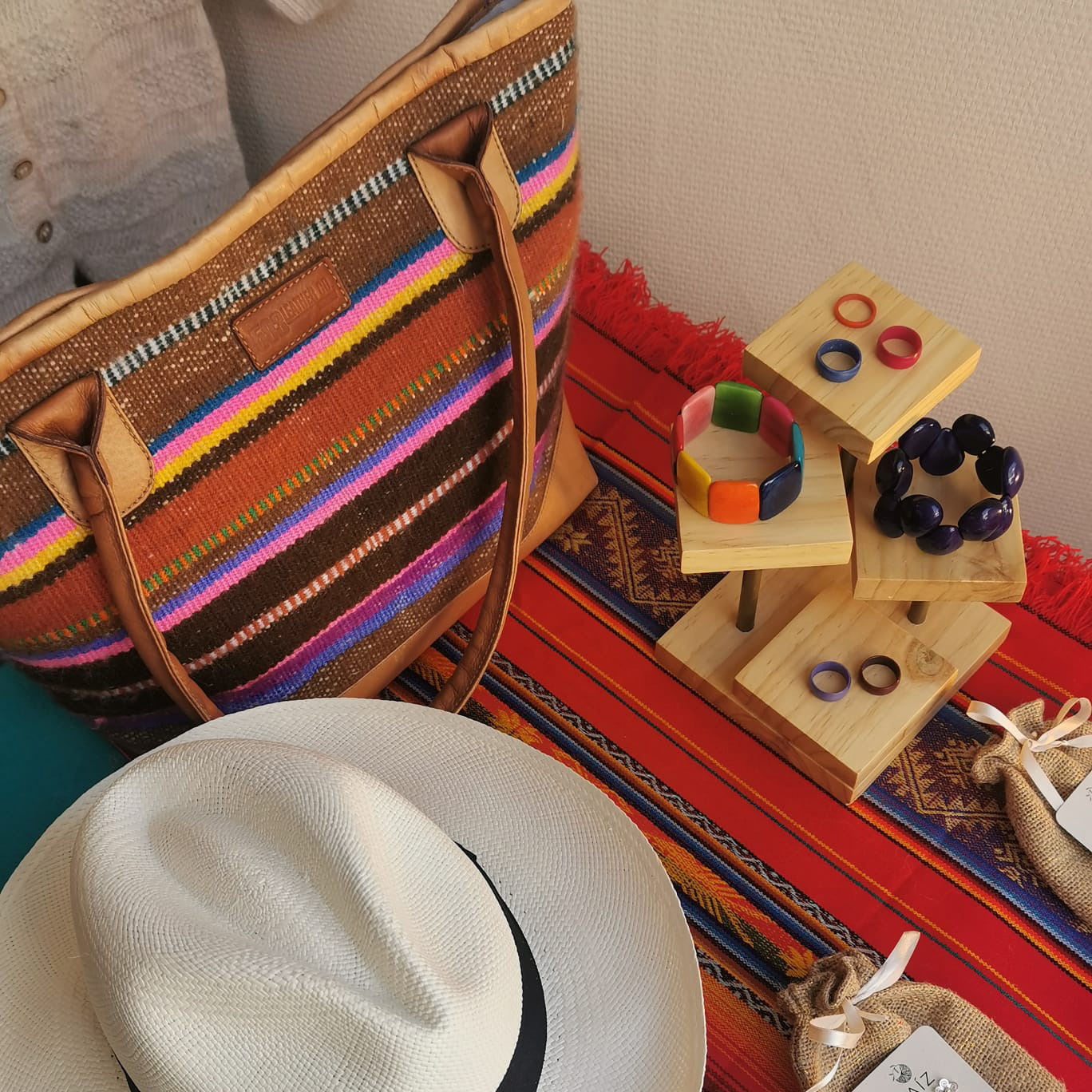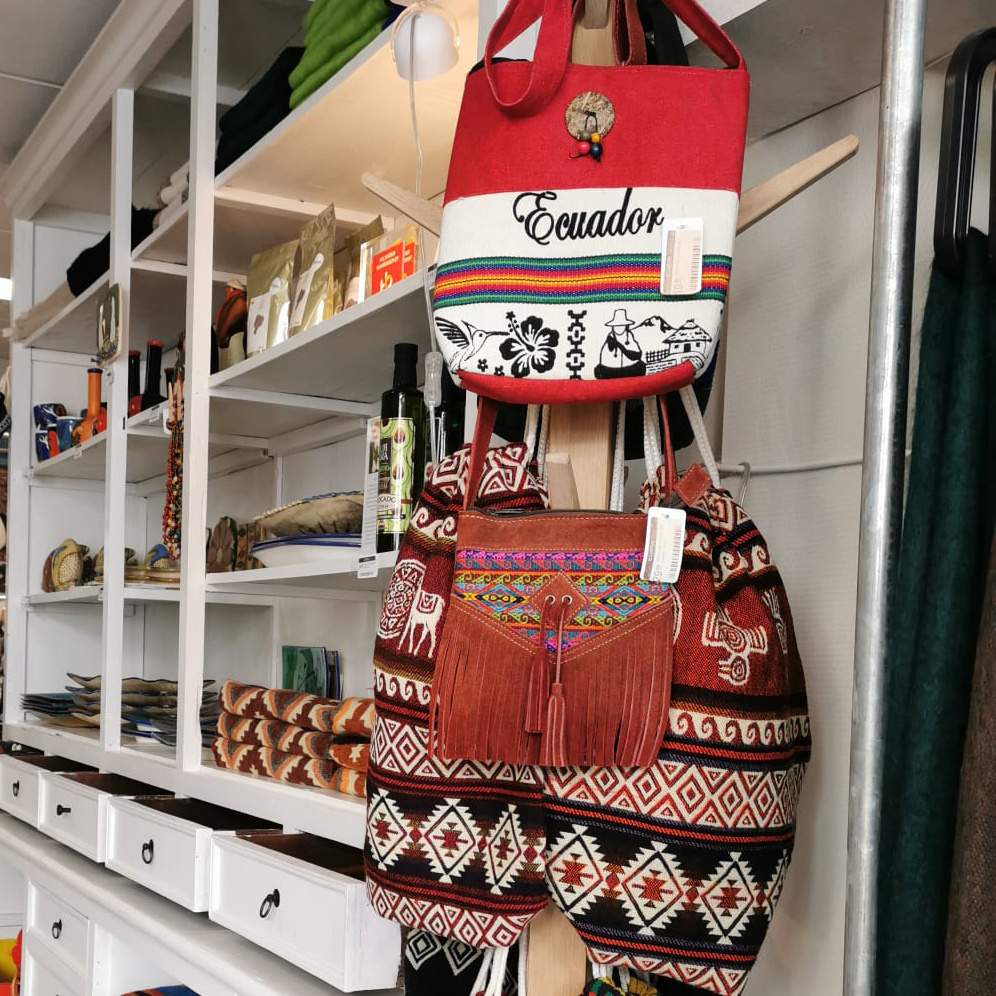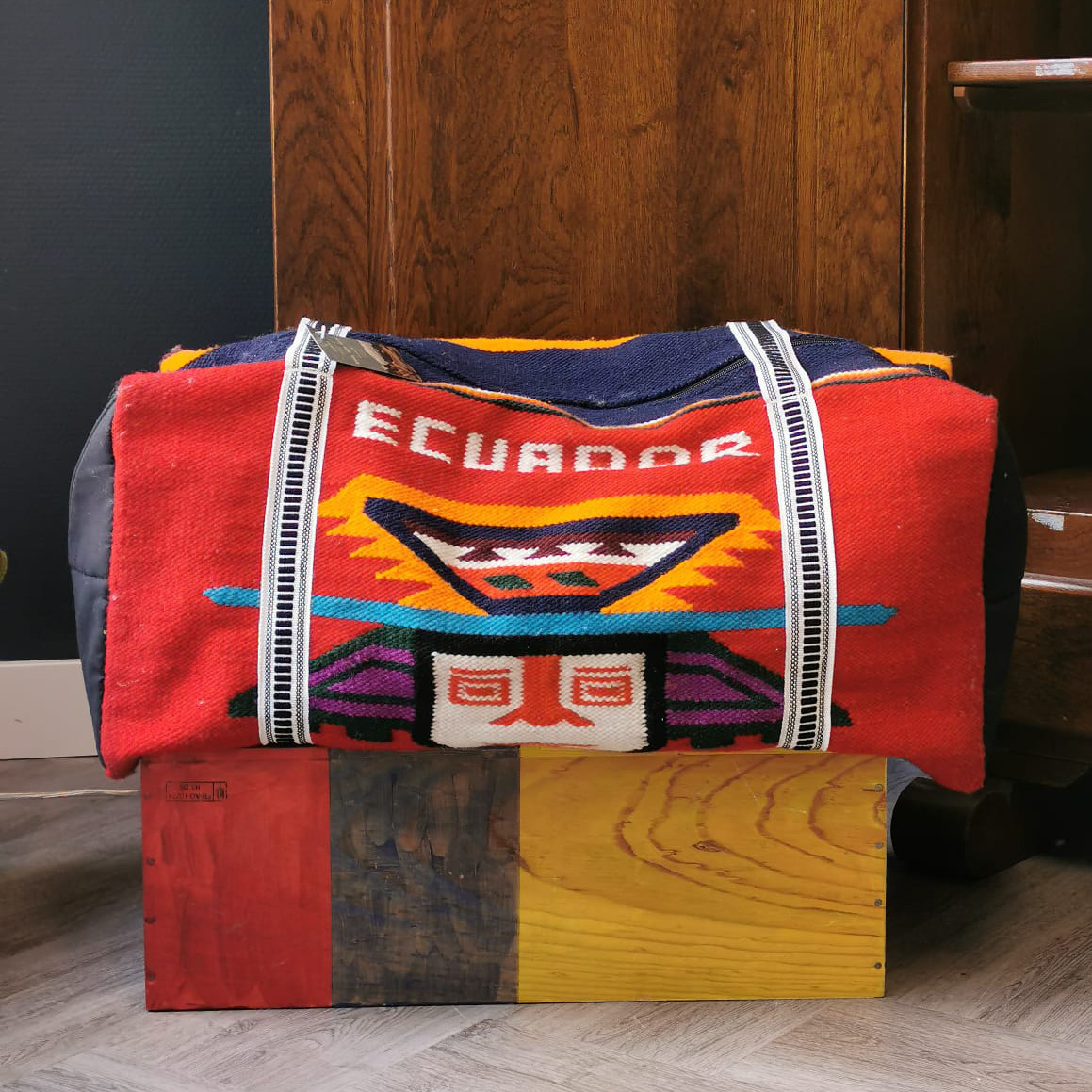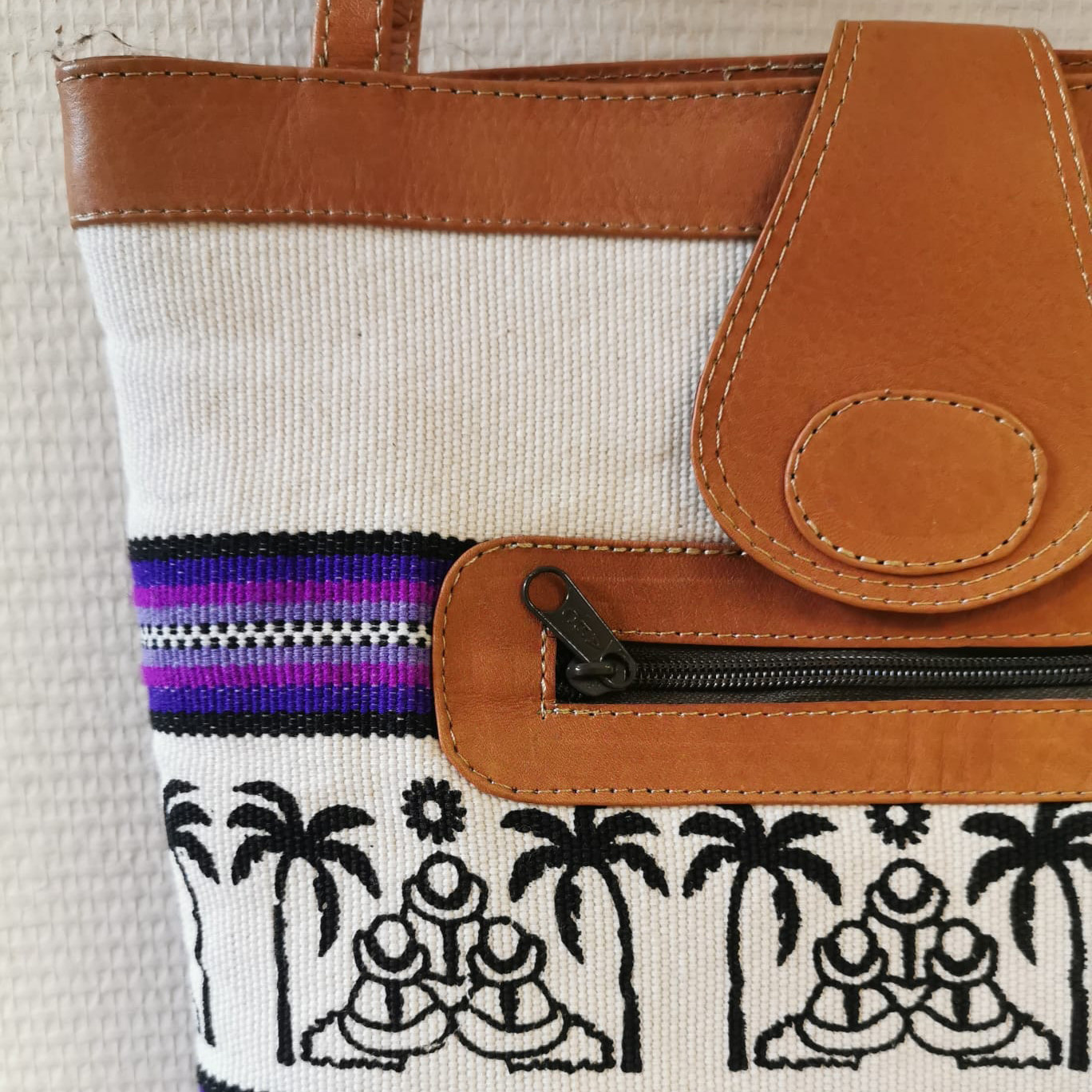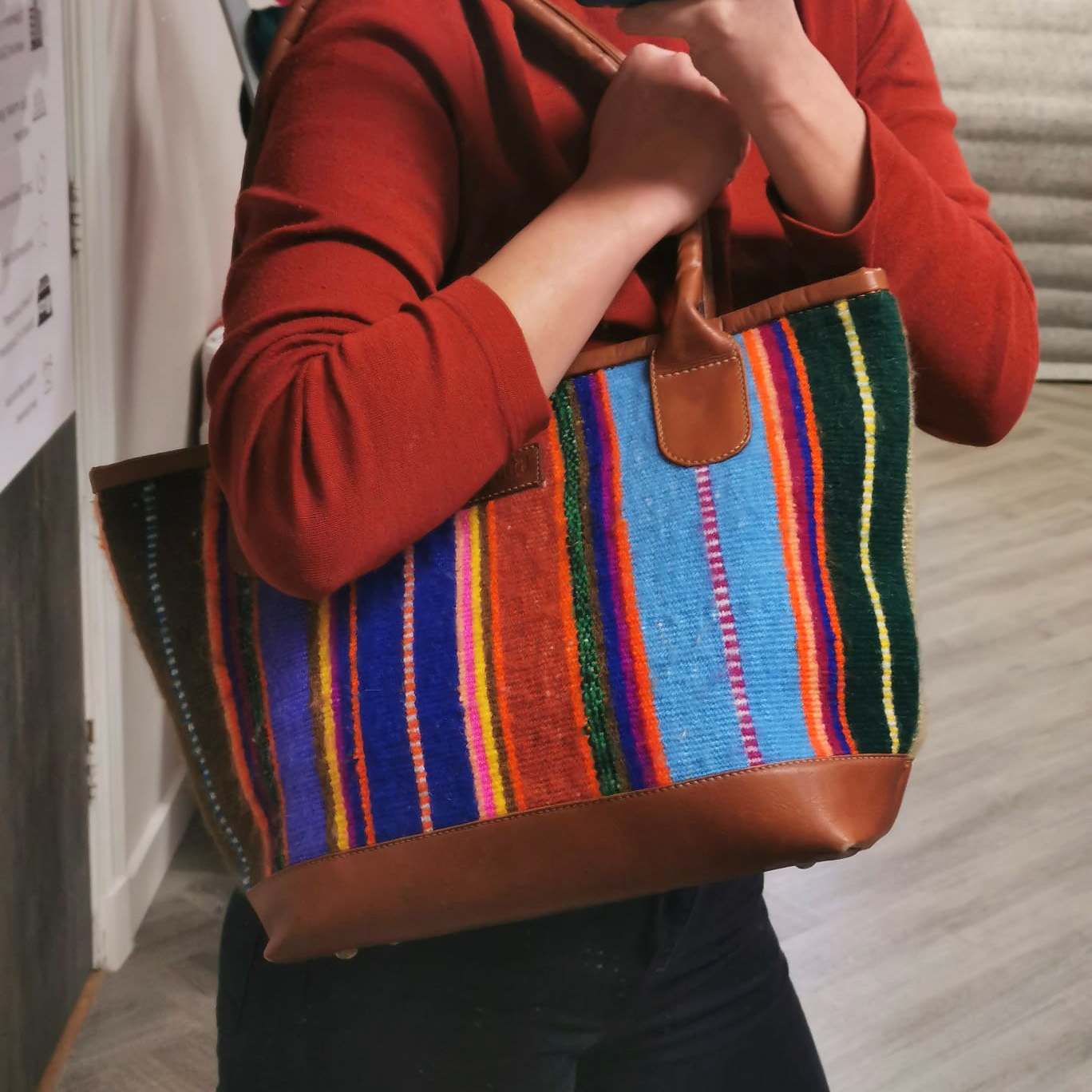 Meet the artesans
Wondering where all EcuaFina products come from and would like to see for yourself? You can!
Through the travel agency Rebecca Adventure Travel, you can book a tour that goes along all the artesans. From Quito to Otavalo and Cotacachi. Otavalo is one of the largest markets in South America where you will find many textiles other typical Ecuadorian souvenirs. Cotacachi is known for its leather goods, here you can find the most beautiful leather bags and shoes. With these tours you not only visit the markets but also experience the beautiful Ecuadorian landscape by foot, bike or boat.